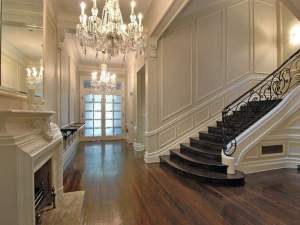 The most expensive home in the five boroughs to go into contract last week (according to the Olshan report), is an address quite familiar to The Observer: 54 East 64th Street, this salmon-colored paper's Upper East Side home before Arthur Carter sold the paper to Jared Kushner.
"Four floors, a giant alimentary center-hall staircase, caked moldings, brass chandeliers, glass-fronted oak cupboards, The New York Observer sometimes felt like a Henry James society home or a 70′s swinger pad, with reporters stacked and stuffed in its confines like Hong Kong tailors," longtime editor Peter Kaplan described the mansion. "Our legal reporter set up his computer in the fourth-floor closet, near the tuxedo that was used by whomever had to go out to a formal evening."
But while The Observer has extensive knowledge of the mansion's past, everything about its present and future—from the buyer, to the seller, to the price of this current transaction—is shrouded in mystery. Alas, our reportorial powers do not include psychic ones, but we do have some clues.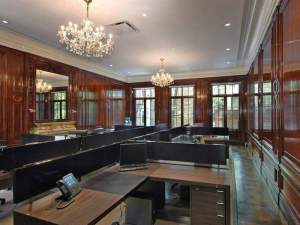 The current owner of the 25-foot-wide, 12,551-square foot townhouse is SM 64th Street Holdings LLC, domiciled in a midtown lawyer's office. There has been some speculation that the townhouse is owned by a partner at Deloitte, but the fact that the owner took out a mortgage from Al-Mawarid Bank, headquartered in Beirut, would seem to point to an Arab seller.
The house also has an odd tendency to trade hands more often than your average Upper East Side manse (an old Observer curse?). Mr. Carter sold the brick beauty to Russian townhouse flipper Janna Bullock in 2004, who doubled her $9.5 million purchase with an $18.7 million sale just two years later—the only house she's ever actually made money on, and one that may have encouraged her to attempt a string of far less successful flips.
Ms. Bullock sold the property on to Irish businessman Derek Quinlan, who ran into difficulties once the Irish property boom turned bust, and had to sell it in 2011 for $20 million to pay off debts, reportedly in the hundreds of millions of euros.
Two years later, and it's being sold again. While it was listed for $28 million, the contract price is not public knowledge.
We did, however, speak to a few brokers who were skeptical that the seller fished his wish.
"I have a feeling it's going to be low," said one veteran Upper East Side townhouse broker, "because that broker"—Dolly Lenz, vice chairman at Douglas Elliman and often called America's top broker—"just doesn't care about the price."
"She tends to kind of dump her stuff," said another.
Ms. Lenz has not yet returned our call, so we'll have to wait and see whether a buyer thought the home's fine bones and noble lineage worthy of the full asking price.