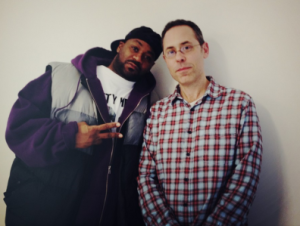 Dan Porter, the former CEO of New York-based gaming company OMGPOP which was purchased by Zynga in March of last year, has left the company, according to a release obtained by Betabeat.
Zynga confirmed to Betabeat that the decision was mutual and unrelated to the expiration of any "golden handcuff" clause in his contract keeping him at the company after the acquisition. Mr. Porter had been working on developing the sequel to Draw Something for the past year and felt it was in good enough shape to make the transition. Zynga launched Draw Something 2 in Sweden last week. The company picked Sweden to release the sequel–a celebrity-focused social network of sorts that emphasizes showcasing drawings over gaming–because Sweden was the first country where the first version hit no. 1 in the App Store.
"Developing and launching games is a team effort, and we're proud of the great work the Zynga New York team has done with Draw Something 2," Zynga COO David Ko said. "We thank Dan Porter for his efforts in making the Draw Something franchise a success and wish him well in his future endeavors."
Until today, Mr. Porter served as the VP of general management at Zynga's New York office. He'll be replaced by VP of Mobile Sean Uberoi Kelly. This past December, CEO Mark Pincus was named the fourth worst CEO in part because of "a big exodus of top executive talent," as well as the $95.5 million write-down on its acquisition of OMGPOP.
Mr. Porter's independent streak has bristled against Zynga's corporate policies in the past. His public criticisms, such as calling Zynga out for copying competitors, have on occasion warranted a retraction. Zynga HQ's willingness to blame poor performances on the OMGPOP write-down and dwindling engagement with the game likely didn't help.
But Zynga New York has been on a hot streak of late, as we reported last week. What's the Phrase–a new game from the New York office that borrows from "Wheel of Fortune" the same way Words with Friends borrows from Scrabble–hit no. 1 in Apple's App Store without much promotion. It's currently no. 6 in top free apps overall and no. 4 in top free games.
On March 21st, Mr. Porter tweeted "One year," indicating the one-year anniversary of his time at Zynga.
This is a breaking story. We have reached out to Mr. Porter and will update the post when we hear back.