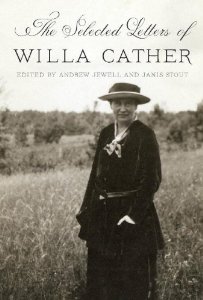 The Selected Letters of Willa Cather
Edited by Andrew Jewell and Janis Stout
(Knopf, 725 pp. $37.50)
If Willa Cather isn't the most well-known 20th century American writer, she's certainly one of the most underrated, a direct descendent of Virginia Woolf and a clear precedent to the straight-laced social realism of Jonathan Franzen. The pressing question about the publication of her selected letters, many of which were thought to have been destroyed, was whether they would reveal Cather's homosexual past, which had never been proven explicitly.
That's basically still the case, but the fact that Cather is overwhelmingly charismatic is more interesting anyway. An early example of American literary celebrity, she had an acute awareness of what we'd now refer to as "her brand." "I have a very different position from that which I had five years ago," she writes in 1916 to Ferris Greenslet at Houghton Mifflin, the publisher of her first three novels, "and that this fact, for a publicity department interested in such things, makes me a very different business proposition."
In her first known letter to Alfred A. Knopf, this very book's publisher, she writes, "No, you don't owe me any candy, but perhaps you will owe me a half-hour's conversation when I get back to New York next fall." (This isn't a bad time to mention that Cather actually had a sister-in-law named Meta.) In her letters, Cather is both a refined genius and an astonishing crank: "xxxxxxxxxxx There, I had a burst of temper at the bottom of the page, but I've cut it out," she writes in a note to her mother. She's a character worthy of one of her novels. —Michael H. Miller
Woke Up Lonely
Fiona Maazel
(Graywolf Press, 336 pp., $26)
Thurlow Dan, the central character in Fiona Maazel's highly anticipated sophomore novel, is the founder of a burgeoning decade-old "therapeutic movement" called Helix that aims to ameliorate Americans' extreme loneliness. Naturally, he is inconsolably miserable. He is obsessed with reuniting with his daughter, Ida Haas, and his ex-wife, Esme, whom he has not seen in years. Vicki, his current prostitute (a Traveling Companion, in the parlance of his cult), offers no distraction. And so Dan decides to take hostage the four inept government agents surveilling his Cincinnati house—there are rumors, not entirely unfounded, that Helix has been consorting with the North Korean government—and demand to see his former family.
Thus begins a madcap, darkly comic tale that twists through Pyongyang, New Paltz, N.Y., a fantastical, horrifying secret city underneath Cincinnati and a House committee meeting. Ms. Maazel has a light touch, nimbly jumping from 2005, when the book is set, back years into the past, filling in the stories of her huge cast of characters. Her America is surreal, but not incapable of redemption.
Though richly charismatic, Dan is hopeless as a kidnapper and can't even bring himself to finish the ransom tape, but he does manage to muster some self-awareness. (This is a feel-good story, really.) "I'd rather treat loneliness like the air I breathe, and breathe it with you," he realizes, 10 years too late. Esme and Ida are rushing to the scene, but the National Guard has massed outside his compound and is preparing to burn the whole thing to the ground. —Andrew Russeth