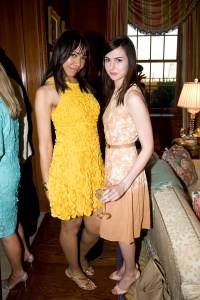 I went to the dentist's about an hour before the FIT Couture Council party, seemingly because I forgot how dentists work. Namely, you go to them, and they use tiny hammers inside your mouth and then your entire jaw swells up to about the size of a baseball. I went home and tried to drink from a glass and the water spurted out of my mouth. It spurted in a little fountain, as though I were a fish. "Everyone there is going to think I've had a stroke," I told a friend.
She suggested:
Inject a numbing agent into the other side of your face for symmetry. Pretend you had a cosmetic procedure instead of a practical one. As champagne dribbles down your lips, mumble to anyone who will listen "Pain for beauty, am I right ladies?" Laugh uncomfortably.
I didn't have any numbing agents, and I figured, "Oh, hell, maybe it'll make me look kindly. And frankly really brave, eating crabcakes and talking to Yigal Azrouel in the middle of a stroke."
So I got to the Peek's residence, and talked to Tama Mellon, who very kindly did not mention that I was deformed. She was with her daughter, Araminta. Her daughter is about 11 and had recently learned the saying that "nothing tastes as good as skinny feels."
Pain for beauty, am I right ladies!?
Well, crabcakes, there's one. I can come up with fifty or sixty more. I told her to think of all the women on the Titanic who skipped dessert. It seemed like a better quote to plan your diet by, albeit one that supposes that we're all on a sinking ship.
You know, she has Tamara Mellon's genes, so I don't think she really needs to worry. I mean, about food. Probably nobody should ever travel by ocean.
Somehow, in the middle of that, I ended up telling Eleanora Kennedy that it's healthiest to eat fish from shallow waters because the ones deeper down have higher levels of mercury. I have no idea whether or not that is true or if I remembered that accurately, but, well, who needs to eat swordfish, really?
The FIT committee is honoring Michael Kors this year – a designer I think was forever ruined for me by a mention in The Devil Wears Prada that fashionable ninnies love his little cardigans – but he's a good designer in spite of being ruined for me.
Eleanora mentioned that if she had her pick she'd like to honor Galliano, and the other committee members seemed to agree. But they can't, because, you know, he stood up in a café and announced that he loved Hitler. "As Christians we forgive" Eleanora pointed out, and I think that's true, except he did pick the one thing you're not allowed to say.
I mean, Karl Lagerfeld said:
"Some [ugly people] are great. What I hate is nasty, ugly people … the worst is ugly, short men. Women can be short, but for men it is impossible. It is something that they will not forgive in life. They are mean and they want to kill you."
FIT honored Lagerfeld three years ago. You can say lots of insane, incorrect, absurdly biased things if you're a good designer, you pretty much just can't say you love Hitler. That's the only thing you can't say.
You know who probably doesn't love Hitler? Hamish Bowles. Every time I see him at a party I think, "That Hamish Bowles is a very nice man" mostly because he always seems to be being nice to people. He was wearing a white suit and purple pocket square. There are men who really can't wear pocket squares (20-somethings, overeager analysts) and there are men who can (Europeans with race cars, hedge fund principals, pretty much any Prince except for Harry) and there are men who could wear a pocket square to the beach and have it look absolutely right (only, exclusively, Hamish Bowles). He always strikes me as the sort of gentleman who should be standing on a terrace somewhere in Newport, staring thoughtfully into the distance.
And then he said "Should we investigate the terrace?" and we did, and I think I willed that into being with my brain. Like some version of Carrie written by F. Scott Fitzgerald.
He'd just recently come back from Paris and Marrekesh, and he bid on an Alaia pantsuit at auction, but it went to Raf Simons.
Fuck Raf Simons.
Oh! Speaking of suits, Alexandra Lebenthal was wearing this black and white striped jumpsuit. Black and whites stripes are so trendy right now. Everybody at the party kept talking about how she was really pulling it off, but I keep thinking it makes women look like they just escaped from a chain gang. You sort of want to go up to them and whisper, "Don't stop here, keep running, you'll make a new life for yourself in Mexico."
I think everyone will come to regret buying those in a year. Well, that will be a lesson to them.
Just as I learned a lesson and that lesson was: Never go to a dentist again, just let the teeth rot out of your head. (Really. It was fine. I only dribbled champagne out my mouth four or five times, and I think people thought I was making some kind of statement, so it worked.)