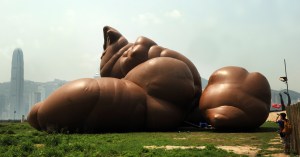 Paul McCarthy, who will soon be taking over Manhattan with a number of shows and special projects during Frieze New York, recently lost one of his inflatable sculptures in Hong Kong, the South China Morning Post reports.
Weather has been blamed for the deflation of the 50-foot pile of excrement, which was titled Complex Shit (though the SCMP politely refers to it as Complex Pile). From the paper:
"A small hole was discovered on the surface of the piece. We are doing our best to fix it and hopefully we can inflate the artwork as soon as possible," a spokeswoman for the West Kowloon Cultural District said. She ruled out vandalism. "We believe it is because of the weather," she said.