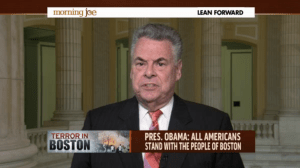 President Barack Obama may have been reluctant to use the term "terrorism" to describe yesterday's deadly explosions at the Boston Marathon, but Long Island Rep. Pete King, who up until recently was Chairman of the House Committee on Homeland Security, thinks there's no doubt.
"Clearly, this was a terrorist attack," Mr. King said on Morning Joe today. "You had the multiple explosions. You had someone who was able to penetrate security. Amateurs don't do that, so this was well-planned and coordinated. It was a terrorist attack. It's a question of who did it, … it's too early to say. Obviously we have to consider whether it was Islamic jihad. It could also be white supremacist, it could be anti-government people."
Regardless of who committed the crime, Mr. King said, the bombing serves as a reminder of why security procedures are in place even when they're inconvenient.
"When people complain about being stopped at the airport, or they talk about too much security at events, that's why that security is there," he added. "Because of what happened yesterday."
Mr. King would later elaborate on this point in another MSNBC interview this morning, arguing that the New York Police Department's occasionally controversial surveillance policies should be a model for security efforts in other areas vulnerable to terrorism.
"If you're out in public, I don't believe you have the right to assume that anything is private. So that's why I believe [in] these cameras on street corners, the way they have in London, the way that they have in lower Manhattan in New York and they're working their way up through Midtown,"  he said. "I know it's a very, very effective tool that the N.Y.P.D. uses … It's important to have intelligence, that's why I think what the N.Y.P.D. has done–going out to communities, monitoring areas where they think they can get intelligence–is absolutely vital."
And to critics who would disagree with Mr. King, the Republican congressman urged them to talk to the families of the victims, such as the 8-year-old boy who died in Boston yesterday.
"I would just say, ask the parents of that 8-year-old–I don't want to even get into it," he said. "Talk to people who have lost somebody in one of these terrorist incidents and say, 'Would you rather have your loved one dead or a camera on the telephone pole?' I think they'd say they'd take the camera on the telephone pole."