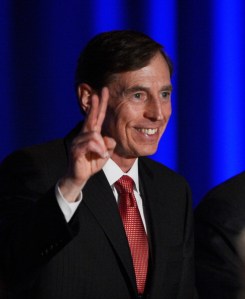 Former CIA director and tabloid star David Petraeus will be teaching at CUNY come August, according to an announcement by the school.
He will serve as a visiting professor of public policy at Macaulay Honors College, teaching young men and women about topics like civil rights, abortion, and crime.
The announcement comes only a few short months after Dr. Petraus resigned from the CIA following news of his extramarital affair with his biographer Paula Broadwell.
CUNY didn't seem to mind the scandal.
"We are delighted that Dr. Petraeus has chosen Macaulay Honors College as his first undergraduate institution," said Dr. Ann Kirschner, University Dean of Macaulay Honors College, in a press release.
"His extensive knowledge and experience will be great resources for our remarkable group of academically gifted students who represent the sparkling diversity of New York."
Although his real-world experience and top-notch Princeton education are undeniable, the responsibility of an educator is to be not only a resource, but also a role model for the students in his charge. According to his biography, he's quite the guy.