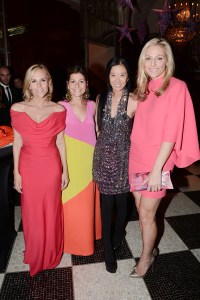 Last night, Elton John, Liz Hurley and Kate Hudson headed up a star-studded evening of philanthropy at the Waldorf Astoria in honor of the Breast Cancer Research Foundation's annual Hot Pink Party.
The theme was "¡Viva Fiesta!" and the notoriously over-the-top event pulled no punches when it came to décor. The venue overflowed with kitschy Mexicana: miniature donkey piñatas hung from balloons in the hallway, while in the Grand Ballroom, brightly colored tablecloths festooned with paper flowers and flashing party favors sparkled like a swagged-out Quinceañera.
The evening's festivities were MC'd by Liz Hurley, dressed in a cleavage-baring ballgown covered in pink sequins (and whose outfit rivaled the Grand Ballroom itself for its sheer blindingness).
Sequin overload aside, the evening was held in support of a noble cause, celebrating the achievements of individuals who have supported the hunt for the cure and raising over $5 million dollars for breast cancer research.
Long-time BCRF supporter Judith Schlager received the Roz and Les Goldstein Unsung Hero Award, in recognition of her work helping others cope with their breast cancer diagnoses. The 3-time breast cancer survivor spoke eloquently of her struggle and her advocacy for breast cancer research—and of the importance of giving back.
"There is a special place in hell for women who don't help other women," Ms. Schlager said, invoking Barbara Walters (and calling to mind Taylor Swift's less than charitable jab at Tina Fey and Amy Poehler).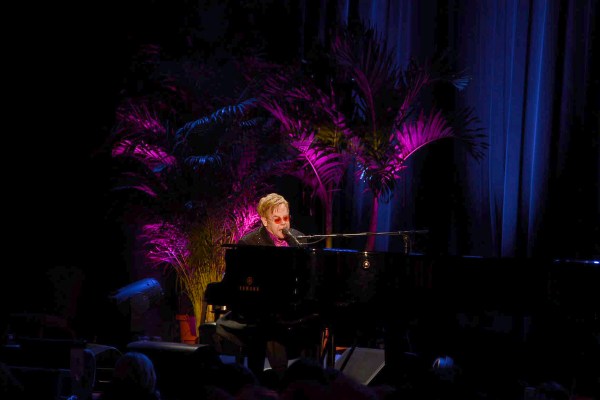 Next came Kate Hudson, whose sleek black gown provided a nice rest for our eyes. Ms. Hudson was tasked with presenting the evening's main honor, the Sandra Taub Humanitarian Award, to ANN INC. CEO Kay Krill. Since 2005, ANN INC, helmed by Ms. Krill, has been one of the most committed and vocal supporters of BCRF, raising money through their Ann Taylor Cares and LOFT Cares card programs and donating over 13.4 million dollars to the cause.
"It's so touching and meaningful, I can't tell you, because it affects me personally as well as the company," Ms. Krill told us after receiving the award. "This is the most meaningful thing I think I've ever gotten."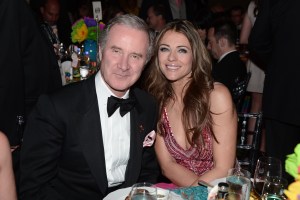 The main event was, of course, Sir Elton John. On a stage decked out with fake palm-trees and a fake moon, Sir Elton–looking fabulous in black sequins and a pink blouse–gave the 1,500 seater room a performance worthy of Madison Square Garden, cycling through favorites like Tiny Dancer, Rocket Man, Crocodile Rock and Your Song (the only notable emission was Candle in the Wind, but that might have been too much melodrama to handle at a cancer event).
"It's amazing the way he's able to transport people," said architect Ate Atema. "Normally at an event like this people are schmoozing. But people were lost, they were just all in the moment."
As the concert winded down, we slunk over to the VIP table to do some schmoozing of our own. There we observed Michael Kors and Donna Karan bustin' a move to Crocodile Rock, while Kate Hudson canoodled with hubbie and Muse front-man Matthew Bellamy. While a gigantic bodyguard stopped us before we could ask Ms. Hudson if Tiny Dancer had given her Almost Famous flashbacks, we did manage to snag a word with Donna Karan, who told us about her struggles with breast cancer.
"Sloan-Kettering and breast cancer, it's been my whole life," said the visibly emotional designer. "I wouldn't be who I was if it was for breast cancer unfortunately. My boss died of breast cancer and my husband died of cancer. Cancer's been all around me my whole life. And Sloan-Kettering's been sort of my second home."
On our way out, we spoke with Leonard Lauder, husband of the late Evelyn and Acting Chairman of the Breast Cancer Research Foundation.
"Tonight was a great triumph. It was a triumph for the women of the world," Mr. Lauder told The Observer. "And they're going to be healthier and happier for this evening tonight."
And as for Sir. Elton?
"He was magical. And all of his friends who know him really well said: he's really on tonight."