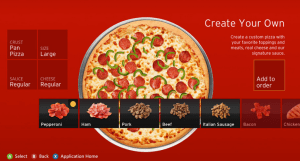 The future is finally here: Microsoft and Pizza Hut have launched a new app for Xbox Live that lets users order the Crazy Cheesy Crust Pizza (and other assorted items!) straight from their Xbox 360.  Users link their Xbox Live and Pizza Hut accounts (who has a Pizza Hut account?) and then purchases can be made via the game controller, voice input or Kinect gestures, which totally counts as exercise.
Plus, the app takes care of pesky social interaction for you. There's Facebook integration so you can brag to your friends that you're the brave soul sitting on your couch eating pizza and playing Bioshock. Larry Hyrb, the director of programming for Xbox, told Polygon that the app has been in development for a while:
"We're always looking at ways to give our audience more of what they're interested in," he said. "If you look at our audience, they love pizza. I mean, who doesn't? It has international appeal, and Pizza Hut is a recognized brand that matches up well with the Xbox brand."
Now the only time gamers have to get off the couch is when their moms tell them to close the basement door.