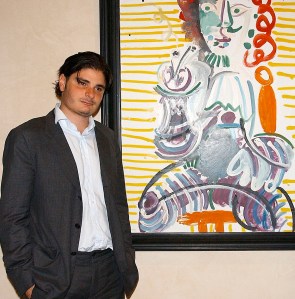 As The Observer—and every other news outlet—has been scrambling to report in detail, the city is abuzz over the high-profile indictment and arrests of figures in an art-world money laundering scheme involving seven-figure card games, international sports betting rings and mixed martial arts fighters who played the Rocky Balboa role of debt collector. Now, The Observer has exclusive information on the high-stakes poker games at the heart of the ongoing investigation.
To recap, here's what we know so far.
Art dealer and collector Hillel ("Helly") Nahmad, who runs the Helly Nahmad Gallery inside the Carlyle Hotel on Madison Avenue, was named in a sweeping federal criminal indictment in which it is alleged that the 34-year-old Mr. Nahmad joined with Russians named Alimzhan Tokhtakhounov and Vadim Trincher to launder millions of dollars.
According to the indictment:
The Nahmad-Trincher Organization used online gambling websites, operating illegally in the United States, to operate an illegal gambling business that generated tens of millions of dollars in bets each year.

The Nahmad-Trincher Organization laundered the proceeds of the gambling operation through a host of American bank accounts and Titan P & H LLC ("Titan"), a plumbing company in the Bronx that the Nahmad-Trincher Organization acquired a fifty percent interest in as repayment of a gambling debt.
The Nahmad family, descended from a banking dynasty in Aleppo, Syria, is "one of the richest and most powerful art-dealing dynasties in the world" according to Forbes, which estimates the family fortune at more than $3 billion, citing, in addition to the New York gallery and another in London that is run by a cousin (also named Helly Nahmad), a warehouse near Geneva International Airport said to hold up to 5,000 works of art, including 300 Picassos.
According to Forbes, the FBI's Eurasian Organized Crime Squad uncovered "high-stakes poker and sports-betting dens that were frequented by prominent New Yorkers in the financial, sports and entertainment fields."
The Observer can share for the first time details of the high-stakes card games mentioned in the indictment as "COUNT TWENTY (Illegal Poker Business)." At least five sources have come forward to discuss with The Observer the inner workings of these high-stakes card games. All agreed to speak on the condition that they would not be identified. They include two people who personally attended the games in question, one who helped run the games for many months, and a fourth who is intimately involved in business transactions with many of those named in the indictment.
Several sources with firsthand knowledge of the games named some of the players, including household names in the world of finance such as Daniel Andrew "Andy" Beal, chairman of Beal Bank, who makes no secret of his enjoyment of and expertise in poker, along with others who are less eager to publicize their affinity for Texas hold 'em. According to two sources, one well-known financier "is there every week."
Also spotted at some of the city's high-stakes games have been boldfaced Hollywood names like Tobey Maguire, Leonardo DiCaprio, Nick Cassavetes, Ben Affleck and Matt Damon.
It's unknown how these allegations will impact those who are not named in the indictment but are alleged to have played in the games. According to no fewer than five sources, one regular player from the finance world who is active in high-level political fund-raising "is very nervous" about the indictment and arrests.
Both Helly Nahmad and "The Russians" (Messrs. Tokhtakhounov and  Trincher) have apartments in Trump Tower. One resident of Trump Tower told The Observer, "I'd see these guys for three to four years coming into Trump Tower, and they didn't live there. They would go not to Helly's but to the Russians' apartment. Other times they'd go to The Plaza. One thing I'll say about Helly, I have never seen a human being who has more good-looking girls."
One gentleman The Observer spoke to worked at the card games. He quit a few months ago when various poker players started getting calls from the feds. "They started contacting professional players and anyone potentially involved for information and confirmation months ago, and have been trying to bust the case for a while," he said.