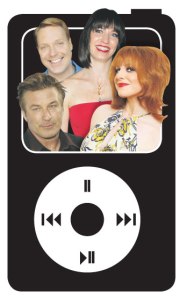 In the beginning there was radio, and everyone tuned in collectively. Satellite radio changed the equation slightly as listeners moved to create their own sound experiences, free of commercials and all those unwanted stations. Then, along came podcasts, and it seems there's one for every listener these days. Now you can personalize your own aural space as never before, and there are so many podcasts to choose from.
Here's a list of some of our favorite New York podcasts for your listening pleasure. The topics of these shows range from cabaret to poetry to fairy tales to comic books, not to mention the celebrity personality-driven shows. We think you'll see what we mean when we say there is truly a podcast for everyone.
HERE'S THE THING
wnyc.org
Alec Baldwin has a loose tongue—just think of all the Twitter wars he's gotten himself into—so you might not think he'd be fit to host a talk show. But the former star of 30 Rock's acerbic wit and dry, hilarious asides are exactly what make his WNYC podcast, Here's the Thing, such a delight. The show, it seems, is as much about Mr. Baldwin as it is the people he talks to—from Girls star Lena Dunham to New York Times executive editor Jill Abramson—but with a host so entertaining, and with such a calming voice, that's hardly a problem.
RISK!
risk-show.com
RISK! is a weekly podcast presented by Maximum Fun, the radio show organization, and associated with the live feature of the same name in which people get up before an audience and tell a story that they would not normally want to reveal. The podcast is hosted by Kevin Allison, formerly of the '90s-era MTV sketch comedy show The State, and the show's description might remind you of The Moth, the nonprofit storytelling organization that puts out its own podcast. But RISK! is raunchier and more laugh-out-loud funny; the idea is, you're taking a risk by telling your story.
DRUNK COMIC BOOK CHAT
drunkcomics.tumblr.com
"We're talking about comic books and we're also drunk," reads the show's spare description, which pretty much says it all. Drunk Comic Book Chat often feels like Drunk History, the popular web series recently picked up by Comedy Central: The hosts sometimes get their facts wrong—on purpose, it seems; they meander; they're frivolous. And even if comic book arcana is not your thing, Drunk Comic Book Chat is oddball enough that you just might enjoy it, even while you're furrowing your brow.
54 BELOW
54belowpodcast.wordpress.com
54 Below, billed as Broadway's nightclub, opened last year as the Oak Room was closing, and it's a bastion of cabaret performance in a city where that music can sometimes feel like an embattled art form. As it happens, the club also puts out a weekly podcast featuring interviews with, and clips of live performances by, some of cabaret's most exalted figures, including Ben Vereen, Barbara Carroll and Patti LuPone.