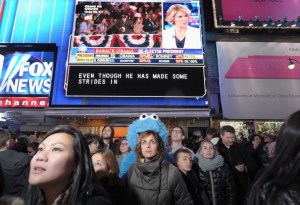 When meeting the costumed characters at Disney World, tourists often get hugged. When meeting the costumed characters in Times Square, tourists often get harassed.
If you've traipsed the flashy, crowded sidewalks of Times Square in the past year, you've seen them: Cookie Monsters; Elmos; SpongeBobs; Dora the Explorers—(kind of creepy looking) costumed characters who pose for photos with tourists in exchange for tips.
But lately, these characters have been anything but cuddly. Take last Sunday, for example, when Osvaldo Quiroz-Lopez—dressed up as Cookie Monster—reportedly shoved a two-year-old boy and shouted at his mother when the latter didn't tip fast enough. Other reports from the past year tell stories of characters punching, cursing, and inappropriately groping customers.
NYPD Sgt. Ed Mullins, President of the Sergeant Benevolent Association (S.B.A.), wants to do something about it. His solution? Requiring the costumed characters to get licensed. "Let them get licenses and let the city council pass a law that allows us to enforce the law and summons people," Mr. Mullins told Gothamist. "Let them submit their fingerprints. They're dealing with kids, they're taking pictures with tourists. It's a reflection on New York."
Under Mr. Mullins's vision, the characters would be treated like food vendors, and would be taxed on their profits. "If you license them, we have accountability for their tax revenue," he said to Gothamist. "You know, let them pay with their tax stamp."
But despite Mr. Mullins's ideas, controlling these Cookie Monsters won't be as easy as ABC. Members of city government have stressed the difficulty of classifying the costumed creatures—Are they street performers? Are they vendors, of a sort?—and henceforth, the difficulty of finding a law to regulate their behavior.
"There are anti-mask laws, but you need at least two people working together," City Councilmember Peter Vallone told Gothamist. "There are 'blocking the sidewalk' laws but they're difficult to enforce in this situation. They claim they're street performers and don't need licensing."
The complicated issue reached the ears of Mayor Bloomberg, who seems to see no clear solution.
"We have tried at various times to regulate people who dress up and then get you to take a picture with your kid and then demand money or harass you in other ways," said Mayor Bloomberg, according to The New York Post. In regards to the characters earning money, the mayor said, "It's not against the law. So I'm sorry. Maybe it should be."
Until regulations are passed, we suggest you steer clear of the Times Square characters. Trust us—you don't want to be around when SpongeBob drops his squarepants.