Addicted to Sweat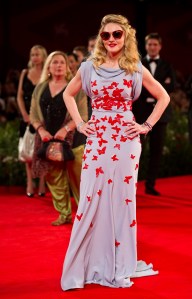 It's no secret that Madonna is, and always has been, a fitness fanatic. She once mentioned in an interview that as long as she had a really good workout, she felt that the day was not wasted.
Determined to find out more about the entertainment icon's luxurious and extremely low-profile Upper East Side lifestyle, we talked to Madonna's personal trainer, Nicole Winhoffer, who is a superstar in her own right. A born and bred New Yorker, Ms. Winhoffer is also a professional dancer (she danced for Shakira during MTV's VMAs at Radio City Music Hall, for example), and started working with Madonna on her Sticky & Sweet tour back in 2009. Since then—as is clear from the Material Girl's tip-top physique, even as she climbs into her mid-50s—Ms. Winhoffer has spent countless hours being active and working up a sweat with her mega-famous client.
Ms. Winhoffer trains Madonna six days a week, for two hours a day; when Madge isn't on tour, the Upper East Side sees all the action. Most of the workouts take place in a private fitness facility right inside Madonna's huge townhome, in a space that is, shall we say, more than adequate.
"It's beautiful!" Ms. Winhoffer enthuses. "It's a large dance studio with the perfect dark 'soft' wood flooring. Because we do a lot of dance, conditioning and stretching, it's important the surface has a 'give' in its bounce to support our impact. The studio is mirrored, with windows that bring in the sunshine."
Ms. Winhoffer describes a typical session in Madonna's dance studio. It starts, she says, with yoga stretches on a mat, to see which parts of the performer's body need special attention. (At 54, she's bound to have a few trouble spots.) Then they move to a full-body warm-up, which gets the blood flowing and mobilizes the joints. Next comes a series of eight to 10 dance-based movements, which combine endurance with raising the heart rate ("They are ALWAYS extremely challenging," Ms. Winhoffer points out). Then there's an ab workout, followed by some dance cardio, and then—finally—the cool-down.
"Sometimes to mix things up, we add jump ropes, battle ropes, or movements with balls toward the end for an extra kick," Ms. Winhoffer says. The pair's fitness regime has been so successful that Ms. Winhoffer and Madonna have even collaborated on a series of fun, challenging workout DVDs called "Addicted to Sweat."
And with her home just blocks from Central Park, it's no surprise that Madonna's also known to take her exercises into the great outdoors.
"Nothing is more beautiful than NYC in the spring and summer days," Ms. Winhoffer says. "Once a week, we will take our bikes through her favorite trail in [Central Park]. We use this as our cardio and make sure to do at least a 45-minute trail. It's nice to change things up, take advantage of the outdoors, hear the sounds of nature, people-watch, and be free."