The Material Mama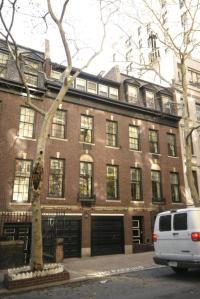 Speaking of Madonna's family, let's not forget the pop sensation is also the mother of four kids: Lourdes, 16, Rocco, a 12-year-old soccer player, Mercy James, 8, and David, 7—it's no wonder her mansion is so big!
Lourdes—who goes by "Lola"—is currently a junior at LaGuardia High School, the city's premier arts school on the Upper West Side. LaGuardia is no stranger to students touched by celebrity: Jonah Bobo (who acted in Crazy, Stupid, Love) and Timothée Chalamet (who has appeared on Homeland) are both current students. As a fellow drama major, Lola hobnobs with them, and friends say she is a talented singer and a great dancer. She appeared in the school's 2012 production of Sweet Charity. Her mother, likely still wrapping up her MDNA tour, was not able to attend.  But her dad, personal trainer Carlos Leon, was there, and frequently attends school functions.
Still, Madonna is not completely uninvolved with her daughter's school. She made an unusual and very valuable donation to the school's annual auction one year.
"Madonna donated some thigh-high, very dramatic boots to the school auction," says Laura Langner, an alumna of LaGuardia's vocal program, who used to pass Lola in the halls between classes frequently.
"When I was there, she wore some intense outfits, like black fishnets and heavy eyeliner, [and] lots of British flags," Ms. Langner says. "She had a stylish, grungy look."
Since then, Lola has apparently toned it down, often coming to school dressed in a T-shirt and jeans, wearing a lot less makeup and looking like a pretty normal high school student. And there have been reports that Lola wants to live independently from her mother, and escape some of the showbiz glitz that surrounded her for much of her childhood.
But she has not given up fashion altogether. And Lola still sometimes visits Mandana Custom Designs and Creations, a clothing and alterations shop at 80th Street and Lexington Avenue (just steps from Madonna's home).
"[Madonna's] daughter comes," says manager Lucia Ortega. "[She has] things fixed." She also has bought herself some fur scarves at the shop, accompanied by an unidentified woman.
Still, the store's owner, Davar, said Mandana has seen no sign of Madonna.
"I was surprised because my stuff is good for her, especially the hats," he says, sounding a little disappointed. "I see the guy who is in charge—he lives there 24 hours. I told him bring [Madonna's clothes] in, I give you commission. I was hoping, you know, we [could] go to those people."
Davar has come to believe that Madonna must be taking her tailoring needs elsewhere. That hurts.