Shopping Haunts and Habits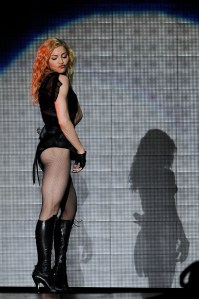 But the original Material Girl has to shop. Lucky for Madonna, Madison Avenue—the high-end shopper's heaven—is just steps away. Though the staff at J. Crew on Madison between 79th and 80th couldn't officially comment on their clientele, the Daily Mail published photos last year of Madonna and boyfriend Brahim Zaibat exiting the store after purchasing a hat. And when it comes to workout gear, Ms. Winhoffer says she's always on the lookout for "new finds" for Madonna. Her favorites include scoop and V-neck shirts from Nike Pro, compression tops from Spanx and three-stripe cut-off bottoms from Adidas.
And with that humongous house, quality home décor is obviously a must, including fresh flowers. At Lenox Hill Florist at Lexington Avenue and 79th Street, where intricate, graceful flower arrangements dance from floor to ceiling, one of the shop's owners, George, cites Madonna as a past client. He says he has made a couple personal trips to the star's home to put together her flower arrangements.
"[The arrangements were] very minimal—one type of flower," he says. "She has some cool vases up on the second floor, [in] different spots—in her walk-in closet, the stairs, at the side of a painting—very cool vases, very minimal, like two, three flowers here, five flowers there. It wasn't like your typical mixed arrangement stuff. [There was] a lot of security when you walk into the house. The only thing they didn't ask me was my Social Security number!"
Having gained access to the inner sanctum, George also describes Madonna's magnificent property. "They have a beautiful backyard and everything, [and] a beautiful walk-in closet," he said. "It's huge—as big as the store."
We don't know about you, but we'd definitely like to live in Madonna's material world. If we got down on our knees (and asked really nicely), do you think she'd take us there?