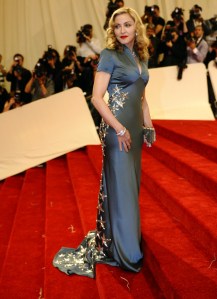 The block on 81st Street between Third and Lexington Avenues looks fairly ordinary: there's a small nail salon, a dry cleaner, and tall, skinny apartment buildings and townhouses nestled in rows on either side of the shady street. But look a little more closely, and that's when you'll notice the wall—and once you see it you'll wonder how you missed it. It's 10 feet tall, black, and mounted with a row of metal points. Then you'll notice that what's behind the wall is no ordinary apartment building or townhouse. It's a hybrid: three red brick townhouses seamlessly merged together to form a single, very roomy mansion.
This is the townhouse that Madonna built.
Madonna: the name is synonymous with international pop-culture superstardom. With a network of fans that extends to the farthest corners of the globe, Madonna is frequently on the move (her most recent world tour, the MDNA Tour, wrapped in December 2012). But when the pop icon isn't jetting from country to country and continent to continent, she's hanging out with at least some of her kids and her staff, at her home, which these days is on New York's Upper East Side, in and around her supersized dream home at 152 East 81st Street.
Then again, you might be none the wiser. Known for maintaining an extremely private personal life (understandably), Madonna's East 81st Street neighbors report that sightings of the Queen of Pop are few and far between.
"The only thing that happens is the garage gate occasionally opens, and there will be an impressive-looking SUV waiting outside," says Max, 24, who has lived in an apartment across the street from Madonna's mansion since July 2012. "That is the extent of Madonna's appearance."
"I live across the street from her," a young woman tells us. "I've seen her maybe twice in three years."
Andrew, 23, who moved onto the block a few months ago, says he never even knew he was neighbors with one of the biggest stars in entertainment history. "I knew she lived on the Upper East Side, but I had no idea that she was literally across the street," he says. "She doesn't advertise that she lives there. There isn't paparazzi outside 24/7 or anything. You wouldn't know she lives there."
So much for the neighbors.