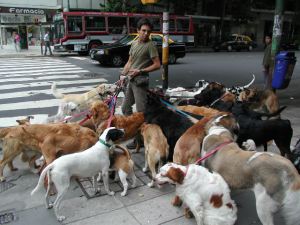 New York City dog owners should keep their pups on a tight leash.
Brooklyn resident Dina Sasson was shocked when a stranger refused to return her five year-old Shih Tzu unless she paid up.
According to the Daily News, Disco ran away from Ms. Sasson's mother's front yard in Midwood, Brooklyn. A neighbor found the dog, but in his rush to get to work on time, he handed Disco off to two women who promised to help find his owner.
The pair, one described as a white woman in her forties and the other an African-American woman in her twenties, called the number on Disco's collar and demanded $100 in exchange for him. Ms. Sasson agreed to pay the ransom, and was reunited with her dog.
"I was frantic," Ms. Sasson told the Daily News. "I gave them the money and then walked away. I just wanted my dog back."
The American Kennel Club, (AKC) which has been tracking dog theft since 2007, reported 444 crimes nationally in 2012, compared to 255 cases in 2010.
"They either steal dogs to keep for themselves, sell on the black market, give as gifts to others or hold as ransom until the owners pay them money," a spokeswoman for the American Kennel Club told the Daily News.
The AKC recommends never letting your dog off its leash, and never tying it up outside in cities. The organization notes that owners of pure bred dogs should keep an especially sharp eye out, as thieves often go after them intending to sell them for a high price.
The Mayor's Alliance for NYC's Animals encourages owners to register and microchip their pets so they can be safely returned to their owners.