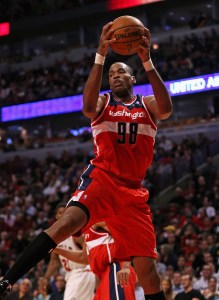 Earlier today, Washington Wizard's center Jason Collins became the first openly gay athlete playing in a major American team sport. And, Council Speaker Christine Quinn, who's vying to become the first openly gay mayor of New York City, is rather happy about it.
"What Jason did today is literally going to save lives," Ms. Quinn said in a statement. "Because the greatest athletes – who are children's heroes more than athletes? – are also LGBT and it's okay."
After Mr. Collins' outed himself, Ms. Quinn said, other athletes will feel more comfortable doing the same. In turn, children throughout the country will follow their lead.
"Today, Jason is opening a door for all other athletes moving forward," she explained. "But let's think about something else: there will be a day soon when a young boy or a young girl is sitting watching the NBA finals or the Super Bowl or the World Series. And there on the screen will be an openly gay athlete. And that little boy, maybe he thinks he's gay or maybe he knows he's gay, and maybe he sat all alone in his room with that. But there will be that athlete on TV, proving to the world that stereotypes don't matter, but showing others who you are and being true to yourself does."
Several other mayoral contenders also commented on today's news.
"Takes a lot of courage to do what [he] did," former Councilman Sal Albanese wrote on Twitter. "It's a great day in sports!"
While George McDonald, a Republican, said Mr. Collins is "a courageous athlete and deserves our respect."
View Ms. Quinn's complete statement below:
"I admire Jason Collins for his bravery and honesty. It takes a great deal of courage to be who you are, and it is not easy to come out of the closet on any day, in any profession. And we know that professional sports have never been a particularly welcoming place to the LGBT community.

"Today, Jason is opening a door for all other athletes moving forward. But let's think about something else: there will be a day soon when a young boy or a young girl is sitting watching the NBA finals or the Super Bowl or the World Series. And there on the screen will be an openly gay athlete. And that little boy, maybe he thinks he's gay or maybe he knows he's gay, and maybe he sat all alone in his room with that. But there will be that athlete on TV, proving to the world that stereotypes don't matter, but showing others who you are and being true to yourself does. What Jason did today is literally going to save lives. Because the greatest athletes – who are children's heroes more than athletes? – are also LGBT and it's okay.

"Jason's courageous statement reaffirms what we already know: gay Americans are serving in every walk of life. We still have more work to do, but someday we will look back to Jason Collins' bravery as a turning point that brought us closer to becoming a nation that fully recognizes we are all created equal."