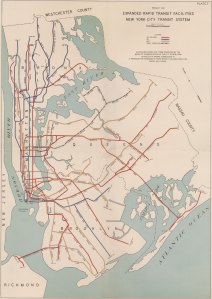 New York City mayoral front-runner and City Council Speaker Christine Quinn unveiled her mass transit agenda this morning. While she emphasized increased control for the city's next mayor, Ms. Quinn had no new ideas.
Her headline proposal is to take control of the MTA back from the state. But taking over the MTA is a tall order, and to do it, she'll need to prove that she has better ideas about how to run it than the state.
So does she?
Ms. Quinn presented three concrete transit proposals—bringing Metro-North service to Penn Station with new stations in the Bronx, ten new Select Bus Service lines in the outer boroughs and increased ferry service.
The first proposal, to bring Metro-North service to Co-Op City, Parkchester, Morris Park and Hunts Point, with additional stops on Manhattan's West Side, is something that has been planned for the MTA's next capital plan anyway—nothing new here.
As far as we can tell from her plan, she would leave the MTA's regional railroads—Metro-North and the Long Island Railroad—as the the same bloated and inefficient services that they are today. With the same sky-high labor costs—commuter railroads in the Northeast have clung to as many as half-a-dozen employees per train, whereas other countries and cities on the west coast have pared staff down to rapid transit levels—new Metro-North service under Ms. Quinn's plan is likely to be just as infrequent and expensive as it is now, reducing its usefulness for New Yorkers who already have cheaper, albeit slower, options. (Absent as well from her platform was any mention of labor reform on New York City's subways, despite issues like one-person train operation being at the heart of the MTA's negotiations with its union.)
Ramped up Select Bus Service service—otherwise known as "bus rapid transit," which speeds boarding with a fine-enforced honor system and gives buses their own dedicated lanes—is the meatiest part of her proposal, but this idea is hardly original—she merely puts a number (ten new lines) to the Progressive Caucus's plan for "a city-wide network of bus rapid transit lines that connect the boroughs." Her four-year timeline is a welcome improvement from the MTA's current snail's pace roll-out, but given Ms. Quinn's emphasis on public review as council speaker, it's unclear if she could roll this out as quickly as she'd like to.
Furthermore, the reasoning behind improved bus service hints at the elephant in New York City's transit room: astronomical subway construction costs.
"Subways cost roughly $1 billion per mile to construct," she said in her speech. "Bus rapid transit—just $1 million a mile."
For one, Ms. Quinn should check her facts. The Upper East Side segment of the Second Avenue subway clocks in at $2.7 billion a mile, and the 7 train extension is over $2 billion a mile—and that's without the much-needed stop at 41st Street and 10th Avenue, which would cost another half-billion, at least.
But more importantly, using the high cost of subway construction in New York City—much higher than in peer cities like Tokyo, Paris or even London—as an excuse not to build any more lines ("I'm a little bit on the fence about finishing the Second Avenue subway," Ms. Quinn joked, saying that her father has vowed not to die before it's finished) is an admission of defeat.
Select Bus Service on Utica Avenue in Brooklyn, for example, is a good start (and something the MTA is already planning), but these high-ridership corridors are crying out for full-blown subway service—first planned over 80 years ago. Better bus service in the outer boroughs would be nice, but Ms. Quinn said nothing about the higher-capacity Triboro RX rail line that many transit advocates have been pushing.
As for ferries, they are essentially a 19th century mode of transit, with no hope of making a dent in the city's transit needs outside of a few places like Staten Island and the Rockaways. "In just 18 months," Ms. Quinn said of East River ferry service, "it's already served over 1.6 million riders." As a comparison, the Lexington Avenue subway line carries 1.3 million riders each day.
New York is fundamentally a rail-oriented city, and Christine Quinn apparently has no plan to add to this infrastructure, or even make more efficient use of existing lines, aside from the Metro-North plan the MTA is already working on. Buses and ferries are all well and good, but Ms. Quinn is going to need to do better if she wants to give the city back its subways.