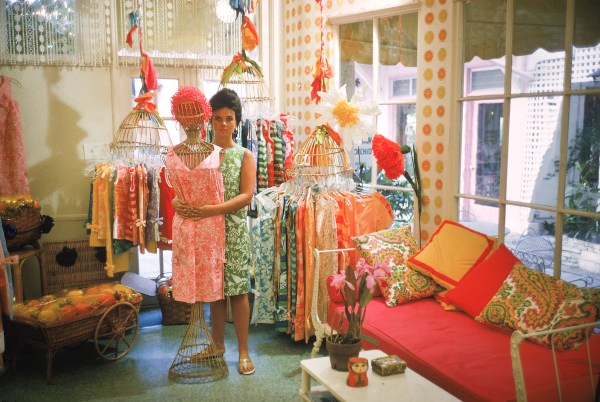 I was shocked to hear that Lilly Pulitzer died on Sunday, the start of a week that also claimed Margaret Thatcher and Annette Funicello. Not because Ms. Pulitzer was so young—she was 81—but because I never quite thought of her as real. That's not to say I didn't think of her. For a long time, as a kid, I thought the Pulitzer Prize referred to Lilly. I'm not the only WASP child who had that idea.
A large part of that sentiment may have been because I grew up in Glencoe, Ill., a Chicago suburb where Ralph Lauren was our patron saint and a pair of pants was not complete without embroidered whales. My first strapless sundress was a pink polka-dotted Lilly.
Though I grew up pale and brunette, I always thought of Lilly as a kindly WASP Beetlejuice, as if by placing your hand on The Preppy Handbook and repeating her name three times, you might find yourself with ash blond hair and a low golf handicap.
If you wore a Lilly Pulitzer dress, maybe, just maybe, you might find yourself mingling at country club dinners, dating a guy who went to Hotchkiss (the very name Hotchkiss struck me as unbearably romantic) and excelling at lacrosse. I was never quite a Lilly myself, but damn if I didn't try.
It's easy to imagine Jackie Onassis wearing a paisley Lilly shift on Ari's yacht, perhaps because she almost certainly did; Lilly's designs became popular in large part because Jackie wore one in Life magazine. Ronald Reagan owned a Lilly Pulitzer tie.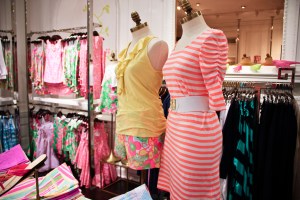 In 1966, The Washington Post said that Lilly's dresses were "so popular that at the Southampton Lilly shop on Jobs Lane they are proudly put in clear plastic bags tied gaily with ribbons so that all the world may see the Lilly of your choice. It's like carrying your own racing colors or flying a yacht flag for identification."
Who talks of yacht flags anymore? Suddenly, in a way most noticeable with her passing, the lifestyle that she embodied seems to have gone the way of Pappagallo button purses.
Ms. Pulitzer's own life was as bold and colorful as her dresses; she was a beloved fixture on the Palm Beach social scene and knew how to throw a party. "There's a Palm Beach personality: they're manner born to the sunshine, the color, the parties and the happy lives," said interior designer Carleton Varney, who writes a decorating column for the Palm Beach Daily News and knew Ms. Pulitzer. "People aspire to be Palm Beach, but she just was."
All was not pretty in pink for Ms. Pulitzer in the years before she launched her dress line, however. She was raised in Roslyn, N.Y., schooled at Chapin and Miss Porter's, and married at 21 to Herbert "Peter" Pulitzer Jr., who owned citrus groves. Bored and aimless after the birth of her third child, she suffered an emotional breakdown and found herself in a Westchester psychiatric clinic, where a doctor told her that she just needed "something to do."
Ms. Pulitzer opened up an orange juice stand in downtown Palm Beach, and soon her biggest problem seemed to be juice stains on her dresses. That is a lovely problem to have. An effort to camouflage the stains prompted her to start a line of dresses with colorful designs, which were soon selling for $22 to the other Palm Beach ladies.
The dresses quickly took off among the Everglades Club set and eventually beyond. Her initial designs were "so simple they were almost like something you could wear going with the laundry basket to a shop in Nantucket," recalled Mr. Varney. "The original was subtle and refined and WASPy in their cut. You had to be a string bean to wear them."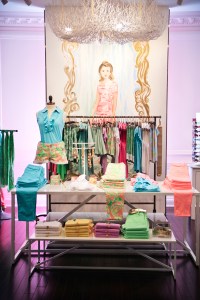 At its height, her company was doing $15 million a year in sales. But it wouldn't last. As Kathryn Livingston writes in her 2012 book Lilly: Palm Beach, Tropical Glamour, and the Birth of a Fashion Legend, the original Lilly Pulitzer company "croaked" in 1984, falling victim to fashion's fickle winds. In a world of pinstripe power suits, the vibrant pastels so popular in the 1960s and 1970s suddenly seemed twee. Ms. Pulitzer's efforts to reinvent the label with a line of comfortable, neutral separates tanked, and so did the company. "After 25 years, it was done, for God's sake!" Ms. Pulitzer told Larissa MacFarquhar of The New Yorker, according to Ms. Livingston's book.
The brand was revived by Scott Beaumont and James Bradbeer Jr. in 1992 then acquired for $60 million in 2010 by Oxford Industries Inc., a company that also owns Ben Sherman and Tommy Bahama.
Inkeeping with modern times, the Lilly Pulitzer label is now affixed to stovepipe pants, bikinis and iPad sleeves, as well as a line of sorority picture frames and other merch. According the Oxford company website, the brand now targets "young women recently graduated from college; young mothers and their daughters; and women who are not tied to the academic calendar"—no yacht necessary. And yet despite their mass appeal, Lilly's designs still emanate, to borrow a phrase from Tad Friend, "cheerful money."
The same could be said about the stores themselves. "You walk in the door and you're uplifted. It's such a happy place," said Benjamin Aryeh, 52—an art dealer who owns the building that houses the Lilly Pulitzer store on Madison Avenue and 79th Street. "It's probably the happiest clothing I've seen in New York City."
The customers are "young clients in their 20s and 30s," he said, who don't necessarily have Palm Beach budgets. "Sometimes when they have sales, there are lines up the block."
On Monday, the day after Ms. Pulitzer's death, the store was abuzz with shoppers soaking in the green apple glow. "Lilly has been a part of my life since I was little," said Brooke Kramer, 34, who hails from Westchester and took a break from medical sales to stop by the store. "I wore their kids' clothes. I wear their golf line, and their dressier stuff for weddings." 
There are those who say that New York is not a Lilly town, that what's chic in Palm Beach looks out of place in a city of hard edges and attitude. Let them keep their steely graphite and cool black.
"I think you're going to find hundreds if not thousands of women on the Upper East Side who have a closet full of Lilly Pulitzers, in much the same way that they might have a closet full of Tory Burch and Pucci skirts," said Steven Stolman, who was hired in 1993 to help relaunch of the Lilly Pulitzer collection, and in 2008 curated a 50th anniversary retrospective at Parson's. "New York women viewed Lilly Pulitzer clothes the way that they would view any item of apparel that suggested a much-needed getaway. How could you not put on a Lilly Pulitzer dress and not think of being somewhere sunny and warm?"
You don't have to be a third-generation Palm Beach denizen to hope her legacy—the simplicity and fundamental joy of those designs, their brightness, their cheerfulness—will never be out of style, whether in an office cubicle, at the Hôtel du Cap or even on a bench in Bryant Park. In tough times, who couldn't use a splash of orange?
Additional reporting contributed by Jordyn Taylor.