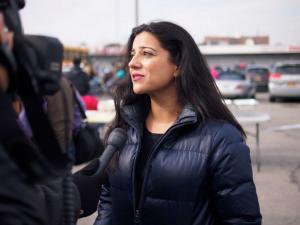 Later this morning, Reshma Saujani will officially launch her public advocate campaign, an ambitious bid for one of two competitive citywide races this year. But as she lays out her agenda, it won't be the same Reshma Saujani politicos remember from her 2010 primary against Upper East Side Congresswoman Carolyn Maloney. In that campaign, she embraced her "Pro-Wall Street Democrat" label, but now, Ms. Saujani says she's focused on a whole new slate of issues.
"Oh my God, so much!" she told Politicker when asked if she's learned from her experiences since then, including a stint in the public advocate's office. "Since 2010, I have a record–a progressive record–of accomplishment. There are people in the city who I have helped put on a path of economic prosperity, that are in college because I fought for them. There are people in jobs because I fought for them … In 2010, that was harder to demonstrate, right? Because I was working as a lawyer in the private sector."
Ms. Saujani, a former hedge fund lawyer, further claimed that her heart was never in finance industry. Rather, she said that career choice was forced by circumstance.
"When I graduated law school, I was almost $200,000 in student loan debt," she explained. "I wanted to work at the N.A.A.C.P. or the A.C.L.U., working on civil rights issues. But when I looked at my loan statement, I didn't have a choice. My family had certain financial commitments that I had to help them keep. And going into the private sector–I never wanted to be the C.E.O. of Morgan Stanley–I always wanted to do what I'm doing today, which is public service."
Today, Ms. Saujani mostly talks about the work she's done since 2010. In our interview, Ms. Saujani often pivoted to topics like women, immigrants and the technology sector, a multi-pronged embodiment of both her own status as the daughter of South Asian political refugees and her non-profit, Girls Who Code, which teaches teenage girls technology skills. Indeed, in her 5-day, 5 borough "Opportunity For All Tour," Ms. Saujani's campaign indicated that she will be talking about immigration in Queens and the Bronx, women-owned small businesses in Staten Island and tech-based businesses in the Dumbo neighborhood of Brooklyn. In Manhattan, she'll attend a Wednesday fund-raiser hosted by Twitter co-founder Jack Dorsey–held exactly 140 days before Election Day.
Jose Antonio Vargas, an immigration activist who wrote a prominent Times article outing himself as undocumented, told Politicker that Ms. Saujani's work on behalf of a New York City-based "DREAM Fellowship," which gives scholarships to undocumented students, should speak for itself.
"As somebody who's been an undocumented person, … I never thought that DREAM Act would be as mainstream. Everyone now knows what the DREAM Act is, right?" he said. "What's really important to underscore about Reshma is that she's been a leader on this issue, nationally and locally, even before it was a thing. I also think that what makes her perfect for this job."
In order to get that job, however, Ms. Saujani will have to beat back several other candidates vying for the same position. The field includes State Senator Dan Squadron, Councilwoman Tish James and teacher Cathy Guerriero.
One labor leader told Politicker he wasn't sure who he would ultimately endorse, listing the pluses and negatives of the various top-tier contenders.
"Has she changed as a candidate?" he said when he got to Ms. Saujani. "I'm not sure. Has her presentation changed? Absolutely."