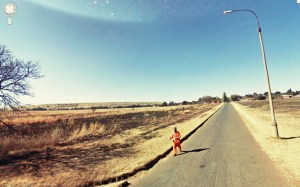 Art and tech bloggers nearly lost it last month when the first piece of "Vine art" sold at the Moving Image Art Fair, and now they have something else to get excited about. Starting today, Rhizome and Tumblr are accepting project proposals for their new Internet Art Grant, an award that will underwrite the production of three winning entries. (The size of each grant will depend on the proposal, and Tumblr declined to say how much money they will be willing to offer.) The jury, which includes Massimiliano Gioni, associate director and director of exhibitions at the New Museum, artists Laurie Anderson and Jon Rafman, and Christopher Price a.k.a. Topherchris, Tumblr's editorial director, will choose commissions based on their innovation and feasibility.
Projects may assume many forms ranging from performance to sound art, but they must involve Tumblr in some capacity. What makes a winning submission?
"We're looking for proposals showing a really native understanding of the internet and the web," Rhizome's Executive Director Heather Corcoran said. "People who have a sophisticated understanding of, not just how Tumblr works, but how the internet works and how languages on the internet work."
"We're looking for something that engages the platform in a new way and highlights the creative use of Tumblr, said Annie Werner, Tumblr's art evangelist (a title of her own design). "But we're certainly loose in how that is. I wouldn't want to project an idea on to the submissions at all."
Rhizome, the New Museum's nonprofit new media organization, has collaborated before with Tumblr. David Karp, Tumblr's young CEO and founder, participated in the 2010 edition of Seven on Seven, Rhizome's annual pairing of artists and techies. Mr. Karp worked with Ryan Trecartin to create a project called River the Net.
"That's where we recognized there was a lot of synergy between our organizations, and we really just kept in touch since then, trying to find ways of working together," Ms. Corcoran said.
The three winning proposals will be announced next month, at which point the artists will have half a year to realize their projects. The winners will be shown at an event at the New Museum in 2014.
Ms. Werner said she was thrilled to partner with Rhizome because "they're interested in the kind of things that are happening on Tumblr and not just what the art world says is happening in art… My bottom line is to promote the arts on Tumblr, and when you have a really credible, legitimate arts organization interested in that kind of stuff, that's really exciting for us."