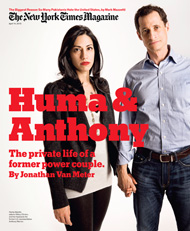 New York City's political world is abuzz with today's news that former Congressman Anthony Weiner is indeed exploring a long-rumored campaign for mayor, revealed in a lengthy New York Times Magazine profile. In addition to various politicos speculating endlessly on the subject, Mr. Weiner's possible rivals have started to give their own thoughts.
Comptroller John Liu, for example, told reporters that he was fine with Mr. Weiner running, but jokingly urged the potential candidate to stay away from Twitter–lest he run into a scandal similar to the one that infamously ended his congressional career in 2011.
"If Anthony wants to be mayor, I guess I would suggest getting rid of his phone and closing down his tweeting account," Mr. Liu said after an unrelated policy speech in Manhattan. "This is a democracy. Anthony has got a lot of resources, he's a hustler. Just stop tweeting."
Meanwhile, a top aide to another candidate, former Comptroller Bill Thompson, welcomed Mr. Weiner with open arms.
"If Anthony's ready to jump into the debate, then come on in, the water's fine," the aide, Jonathan Prince, wrote on Twitter, perhaps suggesting a belief that Mr. Weiner's hypothetical campaign would steal more of the vote from the other Gracie Mansion contenders than Mr. Thompson, who is the only black candidate in the race. Council Speaker Christine Quinn, for instance, shares some of Mr. Weiner's penchant for direct talk and outspokenness, while Public Advocate Bill de Blasio is trying hard to win the outer-borough ethnic white voters that used to be part of Mr. Weiner's base.
For their part, however, Mr. de Blasio's camp pointed to the former congressman's new Manhattan street address and suggested the scandal would offend his old constituents' relatively conservative sensibilities.
"Can Weiner really make a credible run for Mayor?" the de Blasio supporter wrote. "Doubtful, but if he does, he will take white voters from his new home borough, Manhattan — not the outer borough base he's alienated with his lewd conduct and sprawling Park ave digs — making it impossible for Quinn to avoid a runoff with de Blasio."
A couple Republican campaigns responded to today's news as well, directly mocking the development. A spokesman for Doe Fund founder George McDonald told Capital New York, "LOL, Our next Mayor should have more character than a tweet. #reallybadidea." Businessman John Catsimatidis' spokesperson responded similarly to the New York Daily News.
As for Mr. Weiner himself, Politicker reached out to him to ask for reaction to the piece. The avid ice hockey fan, displaying, his trademark sense of humor, simply noted that this reporter shares a name with a notable athlete in the sport.
"I totally just noticed your name!" he responded. "you play defense by any chance?"