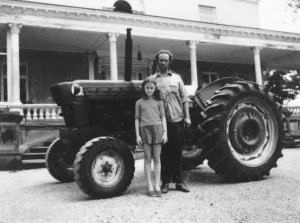 In the process of investigating life in Poland before WWII, however, she took a detour, delving deeply into Jewish history. A lifelong Protestant, Ms. Aldrich noticed that anti-Semitism was still alive in her mother's homeland.
"It just made me think that Jews must be very special," she said. "There must be something amazing about Jews if the Poles hate them so much 50 years later."
One day, she found her way over to the Nożyk Synagogue in Warsaw, the city's only surviving Jewish house of worship from before the Nazi invasion. She knocked on the door, the rabbi answered, and she began to speak to him in Polish, which she had learned from her mother.
"No, no, no," the rabbi stopped her, responding in English. "I'm from Brooklyn."
The two quickly bonded, and Ms. Aldrich started taking Hebrew lessons and classes on Jewish law. "I was really drawn to the idea of a community that is very sheltered, and where everybody follows the same set of rules," Ms. Aldrich said. "Judaism tells you exactly how to behave in every situation. The life is so prescribed, and that's what I needed as a kid. I needed parents to tell me how to behave, and nobody instructed me in that way."
When Ms. Aldrich returned to the United States, she committed to becoming an Orthodox Jew, and did so in 1998. With the discipline of her new religion, she felt confident about making her own way in America, free from Rokeby—finally.
Yet the past has a way of never really letting us go.
In 2005, while embroiled in a drawn-out custody battle, Ms. Aldrich moved back to her childhood home. It wasn't something that she wanted to do, but she saw it as the best course of action to shield her son, Shlomo, from the stress of a divorce. She ended up staying at Rokeby for six years, during which, flooded with memories of her childhood, she pieced together her memoir.
"I was basically possessed by the same energy that I was trying to get away from," she said.
The Astor Orphan, Ms. Aldrich's first book, reads like a cross between Jane Eyre and Running with Scissors, which is to say that it contains more than a few unsavory details about her family, personal things that one might not want the public to know about. In many ways, the book feels like a child's revenge on her family, but Ms. Aldrich denies any intention of that kind.
"Writing this book was about telling the whole story," Ms. Aldrich explained. "The part that I had to hide when I was growing up and the part that I wasn't allowed to talk about."
On the phone from Rokeby, Ania Aldrich, the author's mother, said that nothing in the book made her uncomfortable. "Everything that she said is known," she told The Observer in a heavy Polish accent. "We don't have any skeletons in the closet."
She does wish, however, that Ms. Aldrich had added some sort of postscript to the book, explaining how things have changed over the decades. The grandmother, for instance, spent the final years of her life in sobriety, and the house is in much better shape now, a fact that Ms. Aldrich acknowledges.
Richard Aldrich, the author's father, whose presence in the book looms like Rokeby's, could not be reached for comment. He is now traveling in Cuba or Mexico, depending on whom you ask, and rarely says where he is going or when he will return, according to his wife.
"I think the book speaks for itself," said Rosalind Michahelles, Ms. Aldrich's aunt. "It's a memoir; this is her version, and she has described what she remembers. Obviously, there are painful things, because there's a legacy of alcoholism, but I live with the stories—there's nothing new there."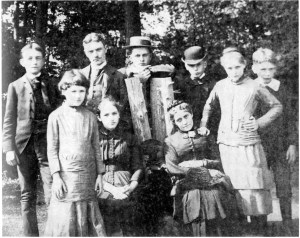 While Ms. Aldrich seems reluctant to identify with her family history, she's not entirely scornful of it, either. With the book's title, Ms. Aldrich is alluding to the parental neglect she experienced as a child, but she's also connecting herself with the Astor orphans, an eccentric cast of characters who lived at Rokeby before her.
One was Robert Winthrop Chanler, a renowned screen painter whose work hangs in the Metropolitan Museum of Art. A second, William Astor Chanler, was an explorer who discovered 16 new species of deer while hunting in East Africa, one of which can be seen in the Museum of Natural History. A third was her great-grandmother, who bequeathed the house to the family when she died in 1963.
"The free-spirited Astor orphans left us, their descendants, our legacy," Ms. Aldrich writes, "the house, its history and contents, and a sense of entitlement and superiority."
Ms. Aldrich, who works as a job trainer for mentally disabled adults, still goes back to Rokeby for family meetings and other occasions, but now that she is a Jew, she refuses to visit during Christian holidays like Easter and Christmas, when the family gets together.
Her mother said she wishes she would join them, but Ms. Aldrich noted that her family, quite eccentric in its own way, has generally been accepting of her conversion. And the individualistic ways of her ancestors—the orphans—gave her license to follow her own path.
"Each of the Astor orphans carved out a separate identity for themselves," Ms. Aldrich said. "And so, when I said I was going to become Jewish, it was just par for the course."
Though she isn't ruling it out, Ms. Aldrich said she has no plans to move back to the house. The problem, she said, is that, like an estranged family member, the building reminds her of so many things she would like to forget.
"When you go to Rokeby," she said, "the past takes over."