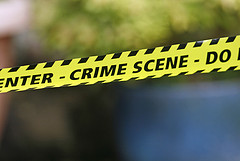 This morning, an off-duty police officer shot and killed her boyfriend and her one-year-old-son before turning the gun on herself, according to police.

At around 8.30 a.m. today, emergency officials responded to a 911 call from East 56th Street and Farragut Road in East Flatbush.
They found the alleged shooter, Rosette Samuel, 43, lying in bed next to her son Dylan and her boyfriend, identified by reports as Dason Peters, 33, shot to death in the front doorway.
"She shot those two then took her own life," a police source told the Daily News.
Ms. Samuel's 19-year-old son, Dondre Samuel, escaped unharmed out a back window and called 911 after hearing an argument between the two adults. According to witnesses cited in the News, he fled the scene wearing only a pair of blue boxers and a windbreaker.
"He was jumping from the second floor to the first. He was frantic,"  Anthony Beckford, 18, said to the paper.
"His knees, elbows were scrapped, bloodily. He couldn't really talk. He was running, for his life. He just said, 'Look, look,' and pointed at a body. We saw a body on the first floor, facing up and blood all over."
By the time police arrived on the scene, three people were dead.
Rosette Samuel was an off-duty police offer from Queens' 108th Precinct, and a 13-year veteran of the NYPD.
Police are currently investigating the cause of the dispute. No motive for the shooting has been determined.