Cold as Schmidt Here's a little digital memento from AllThingsDigital's D: Dive Into Mobile conference: This is what it looks like when, rather than answering your question, Google chairman Eric Schmidt slices to the proverbial bone.
Speaking of Mr. Schmidt, goodies from his upcoming book, The New Digital Age: Reshaping the Future of People, Nations and Business are beginning to trickle out. Today WikiLeaks released the transcript of a five-hour conversation between Mr. Schmidt and Julian Assange, used for the book. It opens with some really riveting stuff. Mr. Schmidt: "Well do you want us to start eating?" Mr. Assange: "Well, we can do both." Guess there's not much time for leisurely meals in the life of a WikiLeaker.
But the real punch line comes when Mr. Schmidt's co-author, Google Ideas guy Jared Cohen, turns up to the discussion late, blaming Delta. It seems Mr. Assange was expecting someone a little different:
"Larry?" he asks. "Jared," Mr. Cohen replies. "Jared! Jared," Mr. Assange attempts to recover. Now that's the GIF we'd really like to see.
You oughta see the other guy Seems whoever's defacing ads these days as some pretty strong feelings about Mark Zuckerberg. Witness the work of some wag with a marker, as captured by AllThingsD's Peter Kafka.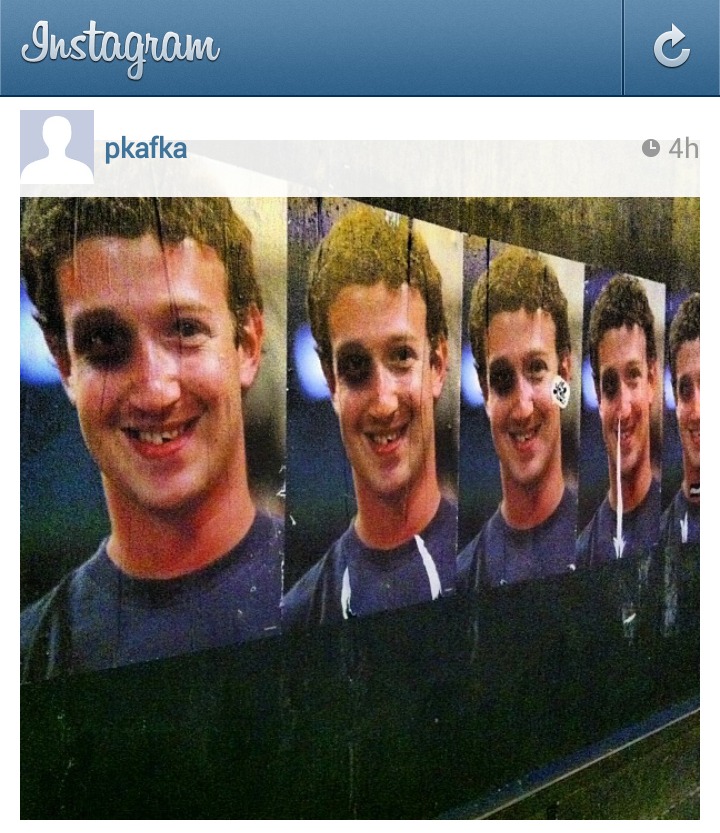 Lost in translation Speaking of the Facebook dynasty, this week Randi Zuckerberg took to her LiveJournal account digital lifestyle site Dot Complicated to blog hard about her super fun and exciting trip to Japan. She learned so many things, you guys! Well, just a dozen, but still. She reported that the country has many non-spoken societal rules like not speaking on the subways and ratted out her baby for breaking the quiet of the train car. ("Honestly, the loudest person on the subway by far was my son, who would announce, "All done!" every time the subway came to a stop.")
Another nugget: The very first question she asks upon entering a new country is, "What apps and websites is everyone using here?" That puts our "Where the hell is the bathroom?" to shame.
Mr. Photogenic Is there anything that Kevin Rose can't do? (Well, except for save Digg.) Earlier this week Mr. Rose used his Facebook to promote his wife's upcoming book, Foodist, declaring himself "stoked" for the release. But we suspect the post was also just a chance to show off his dashing/dorky appearance in the book trailer. He should pivot to being a Pottery Barn catalog model if his coffee-drinking/investing/oversharing gig fails. Potential clients might want to remember what happened the last time he took a cover modeling job, though.
Bonus: A cameo by Toaster, the dog who gave his name to the Instagram filter.
Everyone's a critic Facebook rolled out a cleaner and more streamlined look this week, but not everyone is enamored with it. Newly minted Yahoo! millionaire, design divo and Summly creator Nick D'Alosio tweeted his meh-bivalence about it. "Good to see the directional change to flat design except the colour used is still heavy and muted." That "u" is adorable even when he throws shade!
Promo FOMO Would-be part-owner of the Brooklyn Nets Alexis Ohanian wants to know why Reddit's logo isn't on his season tickets. Hell, given the price tag, he ought to get a monogrammed commemorative edition.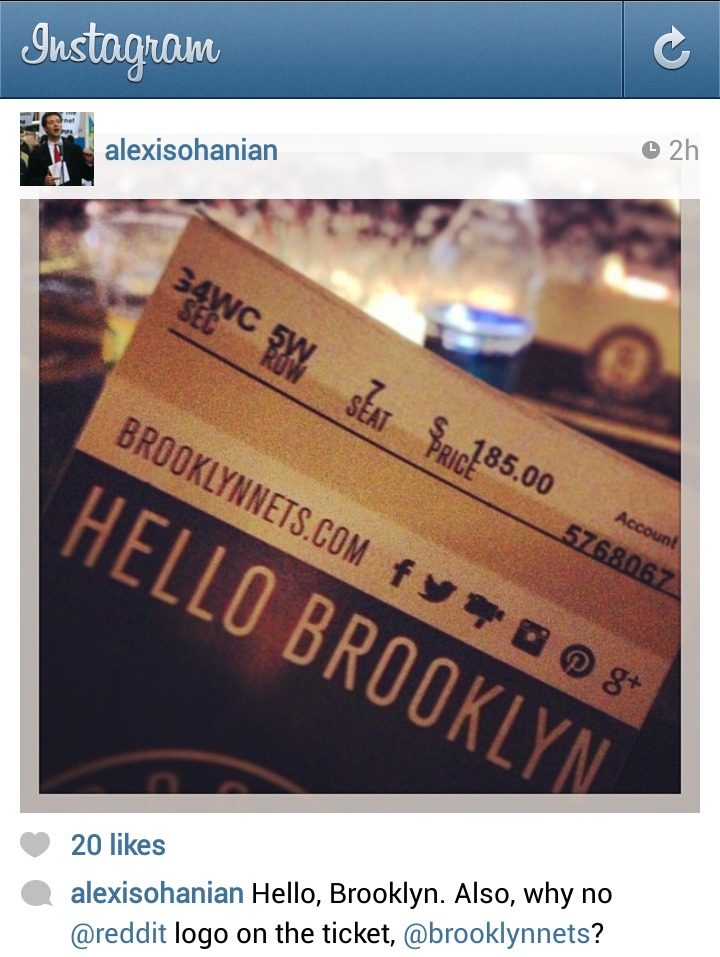 I'm the trash man Jack Dorsey continues his Sisyphean struggle to clean the streets of San Francisco, all by himself if that's what it takes. Here's his latest snap from the Clean Streets initiative, filter-free and everything. A design enthusiast's work is never done.