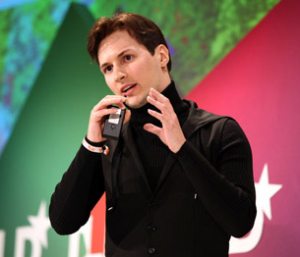 Russian police have carried out a search of the offices and home of Pavel Durov, the founder and creator of VKontakte, the country's most popular social network. The 28-year-old mogul is commonly referred to as the "Russian Mark Zuckerberg" for his influential site, which has more than 200 million users.
A spokesman from the Investigative Committee in St. Petersburg told the AFP that it was investigating a case from early April involving a hit-and-run. Detectives claim that a traffic officer was injured by a driver of a white Mercedes vehicle who ignored an order to stop, plowed into the cop, and then drove off.  Local media alleges that Mr. Durov was driving the car.
Being the good company man, Mr. Durov joked about the incident on his VKontakte profile writing: "When you drive over a policeman, it's very important to drive back and forward a few times to squeeze out all the soft parts." Nicolai Durov, his brother and the site's cofounder, wrote on his page that they were working and "suddenly 20 silent men in leather jackets appear."
"I wonder what they are looking for. Or perhaps they are gathering information and planting bugs," he wrote, according to the BBC.  He was most likely referring to the Russian government's ongoing crackdown on anything on the Internet it doesn't like.
A VKontakte spokesman denied that Mr. Durov was involved and said he doesn't even own that type of car. No arrests were made and the investigation is ongoing.