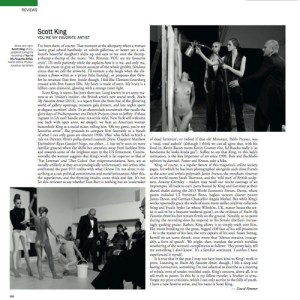 It's getting rowdy out there on the art world's airwaves! Scott King, the British graphic designer and artist who shows at Bortolami, just dropped a poppy dance track that features a woman slamming a number of contemporary and modern artists, and declaring, "You're my favorite artist!" (You can listen to it below.)
[soundcloud url="http://api.soundcloud.com/tracks/87963193″ params="" width=" 100%" height="166″ iframe="true" /]
According to a note on the record sleeve, which takes the form of a fake Artforum review, it's all meant as a parody of the sort of conversations that inevitably arise on "the front line of the glittering world of gallery openings, museum gala dinners, and late nights spent at elegant members' clubs." [So, no, it's actually not a diss track. Sorry for the misleading headline; dumb joke. —Ed.] But will the artists savaged in the song laugh along?
The suddenly omnipresent—and very interesting—young artist Helen Marten gets some special attention on the joint. "Helen Marten?" the woman crows. "Well, you know, she's only just startin'! All that hype, nah, she's not my type."
No word yet if any of the artists mentioned are planning rebuttals.
The song hits iTunes May 10.