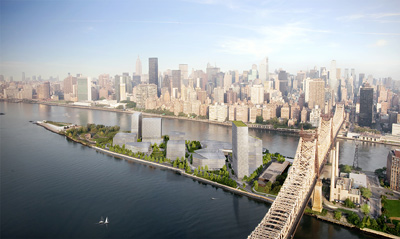 Cornell's NYC Tech Campus Scores Big Along with his wife, Dr. Irwin Mark Jacobs, founding chairman and CEO emeritus of Qualcomm, announced a $133-million gift to Cornell University and the Technion-Israel Institute of Technology Monday to build and establish the Joan and Irwin Jacobs Technion-Cornell Innovation Institute (JTCII). The JTCII will be a part of Cornell Tech, the new technology campus of the Ivy League school located on Roosevelt Island that was heavily supported by Mayor Michael Bloomberg and the City of New York. The funds will go primarily to two-year graduate programs. Now if only they can find a more efficient way to get to the island that doesn't involve a 40-year-old gondola.
Women's Lifestyle Site Earns Funding Women's lifestyle and finance website DailyWorth announced Tuesday that it added $1 million in additional Series A financing on top of the previous $2 million earned last year. DJF Gotham led the funding, which the company will use mainly to hire bring in new key new hires. Additional investors included Gabriel Investments, 500 Startups, Robinhood Ventures, Investors' Circle, Bullet Time Ventures, Patient Capital Collaborative, Joanne Wilson, Rebecca Saeger, Carol Chow, Diego Canoso, and Mark Censits.
Amazon Originals Actually Being Watched As we covered last Friday, Amazon is entering the original television business with the company's production arm Amazon Studios releasing 14 original TV pilots. AAnd it appears the shows are doing pretty well, even if some of them weren't particularly entertaining:  8 out of 10 of the most streamed episodes across the Amazon Instant Video platform were original Amazon programs. The new TV shows are also averaging a 4 out of 5 rating on Amazon–though if life has taught us anything, it's that Amazon reviews aren't always the most trustworthy.
Quantifying The Best Of The Web The Webby Awards announced a partnership today with Quantcast to bring Quantcast's web tracking technologies to the Webby award process. Quantcast will also specifically help the Mobile & Apps categories with deeper insights into mobile app usage by employing Quantcast's new Measure for Apps program. Some of this year's Webby Award nominees for Mobile & Apps are HBO Go, Google Maps, Mailbox, Netflix App, Waze, Lady Gaga's Workshop and NIKEiD Mobile. If only Betabeat had a mobile app, we'd be in there for sure.
Investors Earn DoD Award Three New York employers, including investment firms Drexel Hamilton and Goldman Sachs, along with the New York City Fire Department, are semifinalists for the 2013 Secretary of Defense Employer Support Freedom Award, given to companies that provide extraordinary support to their Guard and Reserve employees. Benefits that these companies have excelled at include setting veteran hiring goals, establishing military employee liaisons, providing childcare for deployed employees, arranging care package drives, and granting additional leave for military employees and family members before and after deployments. Now let's see if the tech startups start opening their doors like their investors are doing.