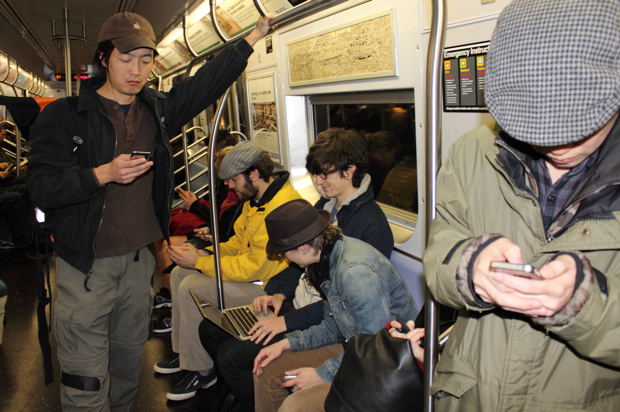 HopStop, Now With Complaints On Monday, transit app HopStop released its new social app HopStop Live!, which lets users update each other in real time on transit issues and changes. (Because the only thing more fun than dealing with transit issues is hearing other people complain about transit issues.) The app is also designed to create communities around specific subway and bus lines, which could help cities identify which lines need improvements or additions. Although this is great for HopStop users, we still prefer the simplistic istheltrainfucked.com.
The MTA Wants Next Generation Apps And in other transit news, the MTA is partnering with AT&T  for a hackathon and AppQuest challenge with NYU Poly and Challenge Post in order to develop the next-generation of public transportation apps. Some of the goals of the challenge include developing tech solutions to navigating time tables and alerts, helping travelers navigate inside stations, integrating with other apps, and developing user generated data. The hackathon will take place May 4 and 5 at NYU Poly in Downtown Brooklyn, with winners sharing $10,000 in prize money. They'll also be automatically entered in the AppQuest challenge, which is scheduled to conclude in early September. Hopefully the developers of istheltrainfucked will enter with an expanded site, "isthemtafucked.com."
Foursquare Version 6.0 Makes Stalking Your Friends Even Easier Today saw the release of Foursquare's newest update, version 6.0, which streamlines the geolocation service to more easily access the app's core features. Now when you open Foursquare, the search function is at the top, while a map with your friends' most recent locations and personalized recommendations (based on a newly developed search algorithm) displays along with the signature check-in button at the bottom.
Jason Rapp Joins Science Inc. Digital business developer and technology studio (and owner of the most unoriginal company name ever) Science Inc. announced Monday the hiring of Jason Rapp as the company's Managing Director. Mr. Rapp previous experience includes time as president and member of the board of directors at educational app and video compnay Mahalo.com, senior executive in Barry Diller's IAC corporation, where he served as CEO of Gifts.com, and as an executive at The New York Times Company. The Santa Monica-based company has more than 13 investments with companies such as DollarShaveClub, DogVacay, Ellie, Uncovet and others. Maybe the first thing Mr. Rapp should do at Science Inc. is work on a new company name.
People Like Reading Tech on Their Tech Mobile publishing developer OnSwipe released their most recent user data, and it looks like people can't get enough of reading about their technology. With 16 million unique iOS users per month, technology was the most popular topic on the OnSwipe platform both in terms of page views and average time spent on its apps. Other popular topics included men's and women's fashion and general news and politics. My, OnSwipe's users are a versatile bunch.
Barkbox, The Birchbox For Dogs (Really?) You know the monthly delivery craze is reaching its zenith when Barkbox, a Birchbox-style doggy treat and toy delivery service, not only has 35,000 subscribers, but just received $5 million in investments from venture firm RRE Ventures. The new funding is on top of the $1.7 million the startup recieved last year from a similar group of investors.Barkbox plans to expand its efforts after rebranding the company to Bark & Co., with BarkPost, a website which CEO Matt Meeker describes as "a dog-specific version of BuzzFeed's 'animals' site," according to allthingsd.com, and BarkCare, a $200 annual vet consultation service that  gives dog owners 24/7 access to vets by phone. Pet startups: the new tech bubble!
AppNexus Is All-In Today the adtech platform AppNexus announced an "all-in" commitment to mobile advertising by extending its technology to mobile platforms. "We built the technology foundation that unlocked unprecedented innovation and spend in display. Now we're taking the same approach to mobile, allowing our customers to do business 'full spectrum' seamlessly across display and mobile," said CEO Brian O' Kelly. The announcement comes after AppNexus raised $75 million in January in Series D round investments, led by Technology Crossover Ventures.