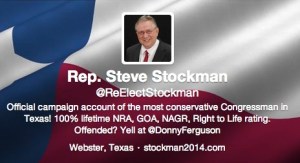 Are you guys ready to read tweets from  Rep. Steve "The most conservative Congressman in Texas! 100% lifetime NRA, GOA, NAGR, Right to Life rating. Offended? Yell at @DonnyFerguson" Stockman?
Are you??! Because fair warning, he's got himself a new bumper sticker idea, and it definitely includes some nonsensical sloganeering about abortion, babies and guns.
So…you ready for it?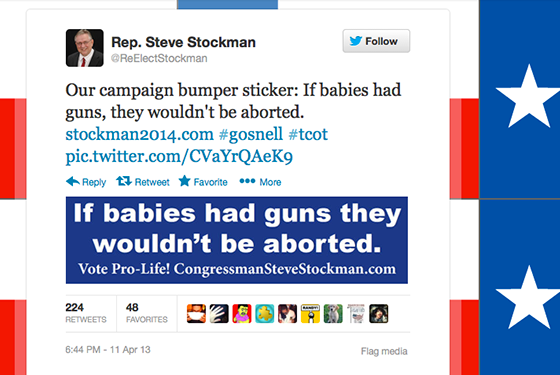 What does this even mean? Or, what does this statement mean to you? Because the best reading we've come up with is: "If fetuses had guns, no mother would have a chance to even try to carry it to the first trimester–let alone abort it–before it accidentally knocked off the safety and blasted itself out of utero."
Which would be…a…bad thing? No? So this is definitely a pro-fetal guns message? Really? Is that what this is?
Incredible. Happy Friday, everyone. Pick these up on your way out of the DMV and don't forget to buckle up, T.G.I.F.