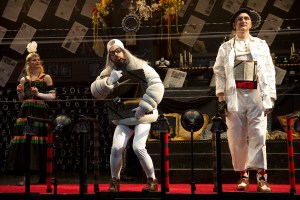 One morning last month at the Public Theater, Richard Foreman was having trouble with rage. On a stage crowded with pillows, stuffed animals and string, an actor droned through a monotone monologue. He made it halfway through before Mr. Foreman, the last standard-bearer of the 1970s avant-garde, stopped him in the middle of a line about "incalculable rage."
"What's another word for rage?" Mr. Foreman asked the room. "Rage sounds weak."
"Fury?" suggested the actors. "Ire? Wrath?"
"Maybe it needs another leading word. Not incalculable rage. Black rage?"
The actors offered more suggestions—"blind rage," "mad rage" "octopus rage"—but their director's attention had shifted to the lightboard. As the actors waited, he conferred with his staff of 10—some Public employees, some interns—flipping through light cues and eventually casting the theater into darkness. By the time the lights were sorted, and he had settled on "incalculable rage … Rage!" it was time to break for lunch.
For directors interested in efficiency, naturalism or cohesion, this is a terrible way to rehearse a play. But Mr. Foreman has no need for those concepts. Old-Fashioned Prostitutes (A True Romance), which opens May 7, marks his return after two years' semi-retirement and shows that his peculiar brand of theater has lost none of its ability to perplex, infuriate and astonish. After more than 50 plays, Mr. Foreman is still doing it his own way, and he will take as long as he needs to get it right.
"I come up with things very fast," he said during his lunch break, munching on a sandwich in the recently renovated Public lobby. At 75, he is round-faced and sleepy-eyed but still possessed of the quiet zeal of a young director with something to prove. "And I know most of them are bad, and it's just a matter of changing and changing and changing."
Mr. Foreman's work is experimental in the most literal sense. He writes his plays a page or so a day, taking no pains to forge connections between today's effort and yesterday's. When it comes time to build a script, he assembles these scraps according to connections seen only by him. It doesn't have to be perfect, because he knows it will change. When the actors arrive, a set, costumes and props are waiting for them. They learn their lines as they go, with the script and everything else shifting all the time. Rocco Sisto, who delivered the speech about rage, called it "the actor's nightmare."
A Richard Foreman production is not easy to describe, but there is usually a lot of string in the air. There are startling noises, unflattering light, Dadaist dialogue and performances so dry that the actors don't seem like they're doing anything at all. That, of course, is the point. What seems chaotic, random or meaningless is the result of weeks of agony. Mr. Foreman described his work as "not unexciting, but dry. As if you were in a lab."
"I've always wanted to do plays where the play was continually sparking," he said. "If it gets too normally dramatic, too normally lyrical, then the sparks don't fly. It's too wet."
His plays are not easy to produce, nor they are easy to watch, but he believes art should sharpen the mind, and every decision he makes is intended to keep the audience sitting up in their seats.
"Not too many people want to do what I say you have to do," he said. "I want to make a gymnasium to refresh the whole mechanism."
In 2009's Astronome: A Night at the Opera, a collaboration with noise art demigod John Zorn, Mr. Foreman's customary booming narration was paired with a screaming wall of guitars. It was one of Mr. Foreman's loudest plays ever, and though some in the audience left with headaches, no one slept through it.
"For me, that's the only important thing in art," he said. "To be confronted with something that makes you really see It."
Richard Foreman has been in pursuit of the thing in art that makes you really want to see It since the late 1960s, when he introduced himself to New York's downtown scene with plays like Angelface, Ida-Eyed and Sophia=(Wisdom) Part 3: The Cliffs. (He's always had a knack for titles.) Oskar Eustis, artistic director of the Public, has been a fan since 1975's Rhoda in Potatoland, which he called "a really crucial show to me, in simply broadening my aesthetics."
"I saw it and I hated it," Mr. Eustis said last week. "And I also hated it the second time I saw it, and I continued hating it the third time I saw it. It was one of my earliest experiences of cognitive dissonance."
When Mr. Foreman founded the Ontological-Hysteric Theatre in 1968, he was one of many artists working to break drama free from the constraints of narrative, character and anything else that might let the audience relax. Today, as theater fights a losing battle against Netflix, downtown companies are reluctant to stage anything that might frustrate their subscriber base, lest they end up in the uncomfortable position of Tim Sanford, the artistic director of Playwrights Horizons, who in March was forced to send a letter justifying his decision to stage Annie Baker's The Flick, a three-hour play punctuated by long silences. In an era of compromise, Mr. Foreman remains unbent.
"What's exciting to me is that his refusal to do a conventional narrative is still incredibly provocative to people," said Mr. Eustis. "I will get more complaints about this show than any show since the last time I did a Richard Foreman play."
The last time was 2009's Idiot Savant, a rapturously well-reviewed production starring Willem Dafoe that was supposed to be Mr. Foreman's last. Seeking "total compositional control," the director turned to celluloid, eventually producing the 2012 film Once Every Day. It took him a while to warm up to the new medium, in which his normal dialogue came off as "pretentious."
"I couldn't make my language work in film," he said. "So I eliminated most of the words." He returned to theater in order to use rhetoric again, and because he "started to feel the need, much to my surprise, of wanting to get involved with other people again and not just sit at home alone all day editing."
After the success of Idiot Savant, the Public was the natural place to stage Old-Fashioned Prostitutes. For decades, the Ontological-Hysteric's home was St. Mark's Church in-the-Bowery, in a little theater upstairs that Mr. Foreman could fill with whatever mad fantasy he chose. When he gave up the space in 2010, his assistants asked if they could take it over as a location in which to produce new works. He agreed, on condition that they "continue to find work that terrifies people."
The result was the Incubator Arts Project, home most recently to a Vampire Cowboys production of Geek!, by Crystal Skillman. The work staged there looks nothing like a Richard Foreman production—Geek! was a pure crowd-pleaser, with sword fights and dance sequences and no string at all—but Shannon Sindelar, a curator at Incubator, says that Mr. Foreman taught his disciples "to respect their artist's vision, and their own processes."
Ms. Sindelar worked with Mr. Foreman for nearly a decade, beginning as an intern in 2004—an experience she called "mind-blowing." The job meant long unpaid weeks, with rehearsals all day and "work sessions" at night when the crew would implement Mr. Foreman's new ideas for the set. She found herself in awe of his use of sound, his constant experimentation and his willingness to throw out something that had taken hours to perfect.
"We started out with fake grass all over the set," she said. "And one day he just said, 'I don't want it any more,' so we had to rip it all up. It was heartbreaking, because we'd spent so much time gluing it down."