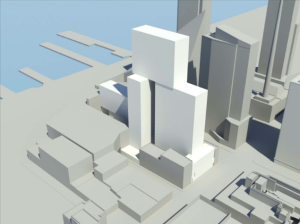 Back in 2011, AvalonBay abandoned plans to build a 44-story, 700-unit rental building on the block south of West 57th Street between Eleventh and Twelfth Avenues. TF Cornerstone was rumored to be interested in the site, and it turns out the rumors were true: the Manhattan-based developer now wants to build a 45-story, 1,189-unit residential tower on the same site, according to documents filed with the Department of City Planning.
If approved, the project would contain a total of 1.2 million square feet of floorspace, with 42,000 square feet set aside for commercial use and a 550-space underground parking garage. Of the apartments, 20 percent—238 units—would be set aside as affordable housing under the city's inclusionary zoning program.
The project would, along with the residential pyramid that Bjarke Ingels is building for Durst Fetner on the north side of 57th Street, anchor the booming crosstown corridor, where half a dozen other luxury towers are in the works.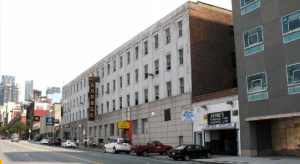 TF Cornerstone will have to go through the same private rezoning process for 606 West 57th as Dursts and Fetners had to do with the Bjarke Ingels building, involving a slurry of acronyms and eventually a vote in City Council. They're seeking to rezone the parcels—which make up most, but not all of the block—from their old manufacturing designations to a zone that allows the highest residential density in the city.
A building on the southeastern corner of the block, included in the rezoning application but not in TF Cornerstone's project, is owned by Republican mayoral candidate and Gristedes owner John Catsimatidis.
TF Cornerstone signed a 99-year lease for the site last May, leasing the land from Montgomery, Alabama-based Four Plus. Charles Edgar Appleby, the progenitor of Four Plus, first acquired land on Manhattan's West Side in the 19th century. He once declared, "It has been my rule to keep the value of my property in land, not in buildings." Apparently his offspring feel the same way.