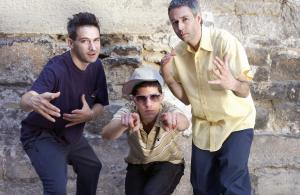 The Beastie Boys are back—with a book deal.
Mike D (Michael Diamond, IRL) and Ad-Rock (Adam Horovitz, IRL) have signed a deal with an imprint of Random House, Spiegel & Grau, to release a book in 2015. The third Beastie, MCA (Adam Yauch, IRL), passed away last year after suffering from cancer, but will undoubtedly live on in narrative medium.
As per the eclectic nature of the rice-white rap group, the book promises to be a vibrant blend of visuals, humor, pop-culture and contributions from other writers. Spiegel & Grau publisher Julie Grau described it to The New York Times as a "multidimensional experience."
"There is a kaleidoscopic frame of reference, and it asks a reader to keep up," she said.
Sacha Jenkins, who you may or may not remember from VH1's (White) Rapper Show, has been tapped to edit the memoir—appropriate choice, maybe, for a book set to deviate from the bland traditions of black and white type.
This news may be irrelevant for anyone born after 2000, but will the baby-boomer generation be jonesin' for some prose-in'?