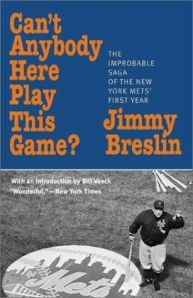 In the summer of 1962, New York fell in love with a man named Marvin Throneberry. A subpar first baseman who had washed out with the Yankees, he was sliding toward early retirement when he was rescued by the fledgling New York Mets. As thanks, he played worse than ever before—once getting called out on a triple for failing to step on first and second base—but each time "Marvelous" Marv came to the plate, the city chanted: "cranberry, strawberry, we love Throneberry!"
It was a third-rate chant for a third-rate player, but in the Mets' first season, it didn't take much to make the fans cheer. The team was on its way to 120 losses—a baseball record that stands to this day—but with the Dodgers and Giants five years gone, New York was desperate for something to scream about. Throneberry's Mets were more than lovable losers—they were spectacular. "Name one loyal American," writes Jimmy Breslin, in Can't Anybody Here Play This Game? (Ivan R. Dee, 128 pp., $12.95) "who can say he does not love a team which loses 120 games in one season." Published 50 years ago this week, this beautiful little book remains the ur-text for Metsian blundering. Here is the franchise's origin story, writ in Mr. Breslin's trademark barroom prose and cast with enough devils, heroes and clowns to fill out a pantomime of Faust. They are gamblers, toughs and crusty baseball lifers whom Mr. Breslin rallies in opposition to "the era of the businessman in sports," when America's postwar success led to a "dry and agonizing" focus on the bottom line.
Even in 1963, Mr. Breslin's style was a throwback, a nostalgic echo of sportswriters who were chomping cigars and torturing metaphors before he was born. His New York is deliberately larger-than-life, as though he is trying to mold the modern city into a Damon Runyon story, and his prose is sweet enough to make the '62 debacle an American epic.
As villains, we have Dodgers owner Walter O'Malley and his henchman Horace Stoneham, of the Giants—a pair of "arrogant, money-hungry people with a sense of loyalty only to the bank account." They are in league with Major League Baseball itself, whose evil plan calls for New York to be a one-team monopoly, boosting Yankee revenue and dooming Giants and Dodgers fans to an eternity of pinstriped baseball.
Standing in their way is the brashly brilliant William A. Shea, a lawyer with a bookie for a father-in-law and "the square jaw of a guy who knows how to punch back." He starts punching as soon as the Dodgers leave town, threatening to form a rival independent league unless the MLB approves a replacement for the lost teams. Commissioner Ford Frick, a "grey-haired jellyfish," caves. New York can have the Mets.
To run the team, Shea recruits ex-Yankee GM George Weiss, "a finicky perfectionist" who "raises hell" when his employees are slack. To manage, Casey Stengel, the crinkly-faced doubletalker who led the Yanks to 10 pennants before they gave him the boot. And to sign the checks, Joan Whitney Payson, the finest owner the team would ever have.
A sporting millionaire, Mrs. Payson has an abiding love for dirty jokes, nightclubs and the Giants. In Mr. Breslin's telling, she "could be the best person to come into baseball in our time," and she falls into that irresistible stereotype of the old-
money millionaire who's too rich to let anyone stop her fun.
At the dawn of the '62 season, the uniforms are gleaming, the manager is optimistic and Robert Moses is building a shiny new stadium in Queens. But the Mets play in the Polo Grounds—the tumbledown shack on Coogan's Bluff that served Mrs. Payson's beloved Giants for so many years. The stadium is a dump; the team fits in perfectly.
Lest the expansion team show them up, the National League allows the Mets nothing but fading stars and minor league refuse. Marvelous Marv is among the best of the bunch. The team loses its first nine games, and it keeps that spectacular pace up for most of the season, playing "a brand of baseball which has not been seen in the Big Leagues in over twenty-five years." Twenty-five years takes us back to Mr. Breslin's childhood, which he recalls as an innocent time when players were mean, gamblers ruled the ballpark and entertainment was king. He yearns for it, and so do we.
These young Mets lose every way possible. They can't hit, they can't field and their pitching staff gives up more home runs than anyone ever has before. They are failures—world-class failures!—and in Mr. Breslin's world, the schnook is king.
You see, the Mets are losers, just like nearly everybody else in life. This is a team for the cab driver who gets held up and the guy who loses out on a promotion because he didn't maneuver himself to lunch with the boss enough. It is the team for every guy who has to get out of bed in the morning and go to work for short money on a job he does not like. And it is the team for every woman who looks up ten years later and sees her husband eating dinner in a T-shirt and wonders how the hell she ever let this guy talk her into getting married. The Yankees? Who does well enough to root for them, Laurence Rockefeller?
Over decades of mediocrity, Mets fans have been sustained by the idea that there's nobility in rooting for a bum team. Lately, that fantasy is beginning to crack. The team's owners have not recovered from Bernie Madoff's parting shot, and their desperate efforts to stave off bankruptcy have resulted in a major league team that would do very well in the minors. Bud Selig will never force his friend Fred Wilpon to sell—just as in 1962, baseball's commissioner is a jellyfish—so the Flushing faithful are stuck paying sky-high prices for bargain-basement baseball. Those who keep watching are divided into two camps: Panglossian optimists and raving conspiracy theorists. The atmosphere in Citi Field is bitter, and there are times one fears the unthinkable has happened—that it has stopped being fun to watch the Mets lose.
If Can't Anybody Here Play This Game? is the Mets' bible, what counsel does it offer in this dark April?
"The Mets lose an awful lot?" asks Mr. Breslin. "Listen, mister. Think a little bit. When was the last time you won anything out of life?"
editorial@observer.com