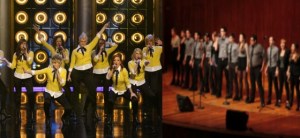 Before this weekend we believed the world could be divided into two sets of people: Those who liked the cheesy theatrically of a capella groups and those who would rather Lena Dunham their ears with a Q-tip rather than watch an episode of Glee or sit through Pitch Perfect.
But that was before this weekend's International Competition of Collegiate A Cappella (ICCA) at The Town Hall in New York, where the Nor'easters of Northeastern University took home the grand prize and NPR's Linda Holmes, writing on the radio station's Monkey See culture blog, introduced us to the idea of non-ironic rockapella and a phenomenon known as "flirting on the square."

See, according to Ms. Holmes, many of the college groups that participate in the ICCA–like the Nor'Easters– are really talented singers who do intense numbers with very little "flair."
These are the groups, in effect, that were representing for the notion that, to paraphrase a quote from Glee, there's nothing ironic about a cappella. And in fact, contrary to the perception that a cappella is out of touch, if these groups are guilty of myopia of any sort, it's that they've tossed much of the history of music before the last five or ten years. If anything, they are overly infatuated with the current, not the ancient.
How this new kind of sincere a capella figured into NBC executives' decision to revive their dormant competition show The Sing-Off is unknown, but it's hard to imagine to imagine that anyone would want to watch an a capella group that takes itself seriously. That sort of winking self-effacement is fundamental to the guilty pleasure of the college a capella scene, and Ms. Holmes even has a name for it: "Winking on the Square."
"If "kidding on the square" means you're kidding but you're not entirely kidding, flirting on the square means that in theory, you're flirting ironically — "Look at me, I'm a nerd pretending I think I'm hot!" — but in doing so, you're also flirting actually…

It means acting like you're hot stuff and being 49 percent serious, plus or minus two percent, as the Reverb soloist did in the back half of their "This Is How We Do It"/"Bad" mash-up. He's doing his Michael Jackson, which is unrelentingly square, but that's ultimately supposed to bring it all the way back around to being adorable…And Reverb's choice — a very traditional one — is to walk a very fine line between cool and anti-cool. And the audience went bonkers for them.
While we agree with Ms. Holmes analysis, she might not be the most impartial of judges for America's interest in the a capella scene, as she readily admits to having been made "crazy" after a member of Oberlin's Obertones gave out his number while performing on stage and gushing about a British group's "cover of Paul Anka's cover of 'Wonderwall,'" which "sort of must be seen to be believed."
Although, to be fair, she was totally right:
[youtube http://www.youtube.com/watch?v=drrsnD5QjMk&w=560&h=315]
But the question isn't whether we can believe in an x-treme "flirting on the square" a capella performance, complete with matching jumpsuits and a choreographed cover of "Wonderwall." The question is whether or not this kind of shtick will win over any new fans to the musical genre, or if the more theatrically subdued but contemporary "cool" Nor'Easters, with their renditions of hits like Rihanna's "Diamonds" and Florence + The Machine's "Drumming Song" are the wave of a capella's bright and shining future.