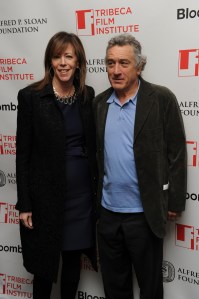 As the co-founders of the Tribeca Film Festival, we are thrilled to share our plans and recommendations for the coming week. This year's TFF will display the enormous creativity of filmmakers, storytellers and artists from around the city and the world. As the late Roger Ebert would have said, we'll see you at the movies.
WEDNESDAY, April 17
The festival opens its 12th edition with the world premiere of Mistaken for Strangers, a documentary from first-time director Tom Berninger, a heavy metal- and horror film-loving roadie who follows his brother Matt Berninger, front man of the indie rock band The National, on the band's biggest tour to date. We didn't know who this amazing Brooklyn-based band was until we saw the film, which is a great story about family, music and aspiration—isn't that really what life's about? Then it's on to the Highline Ballroom where the band will play. Afterward, get a late-night bite at The Odeon, a longtime haunt of writers and movie stars.
Screening and concert by invitation only, for more information, visit tribecafilm.com/festival. The Odeon, 145 West Broadway, (212) 233-0507.
THURSDAY, April 18
There are close to 90 films premiering at the festival, and tonight marks the opening of the feature film sections. We are going to try to stop by and see the documentary competition opener Big Men, an exposé on Africa's oil companies and American corporate interests directed by Rachel Boynton and executive produced by Brad Pitt. Other exciting debuts include the narrative competition title Bluebird, directed by Lance Edmands and starring Amy Morton, Girls' Adam Driver and John Slattery; Flex Is Kings, a story about Brooklyn and street performance directed by Deidre Schoo and Michael Beach Nichols that will open the Viewpoints section; and Dark Touch, the opener of the Midnight section, directed by Marina de Van. We haven't see all of these, but they sounded interesting to us!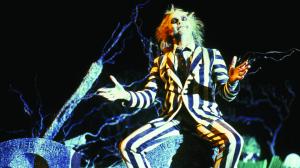 Later we'll stop by our Tribeca Drive-In (it's actually a sit-in) on the Hudson River—a series of free, outdoor screenings at Brookfield Place (the World Financial Center Plaza). We are bringing back Hitchcock's classic The Birds—for its 50th anniversary! (Jane says: "You have to check out the introduction on our website before you come—it's the funniest thing I've ever seen!") We are going to try to come back tomorrow too, for Tim Burton's beloved comedy Beetlejuice, a great movie for kids of all ages. And on Saturday there will be an additional screening of the TFF 2013 film Lil Bub & Friendz, featuring the famous Internet cat sensation. And for dinner tonight it's Locanda Verde—gotta get some of the ricotta.
Feature screenings throughout the festival, tickets at www.tribecafilm.com. Drive-In screenings are free and open to the public. Locanda Verde, The Greenwich Hotel,  377 Greenwich Street, (212) 925-3797
FRIDAY, April 19
We have a new section in the festival this year: Storyscapes, which opens today and runs through April 21. We are going to meet the creators of the transmedia projects at the Bombay Sapphire House of Imagination. Jane wants to take one of the robots from the interactive Robots in Residence installation around with her to all the events—she is curious to see what kind of film she'll end up making.
We will both be on hand to celebrate the graduation of our Tribeca Film Fellows. These 20 young NYC filmmakers have been learning from some of the most skilled industry insiders in making their own independent films, and tonight they will premiere their projects. Congratulations to this year's class!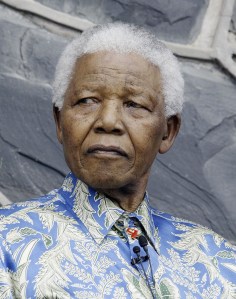 Nelson Mandela opened the festival in 2002 and reminded all of us about the healing power of film. Tonight we celebrate his legacy, words and wisdom. The Power of Words, a new short film using his quotes and teachings, will be playing nightly on screens in Times Square from 11:57 p.m. to midnight starting tonight and continuing throughout April. We'll join the hundreds of others on the Red Steps of Duffy Square to watch the film take over all the screens, and then we'll celebrate with live music.
The Bombay Sapphire House of Imagination, 121 Varick Street, seventh floor, free and open to the public with a reservation. Tribeca Film Fellows graduation by invitation only. The Power of Words screening, Duffy Square, free and open to the public.
SATURDAY, April 20
One of our favorite films at the Festival is Alberi, a mesmerizing homage to mythology and nature from director Michelangelo Frammartino. The film will play as a cinematic installation at the VW Dome at MoMA PS1. After you've been thoroughly dazzled by this cinematic treat, come join us for a special celebration. It's definitely worth the trip, and don't worry about being late—the film runs on a continuous loop!
In the vein of "30 for 30," ESPN is presenting "Nine for IX," nine documentary films about women in sports, each directed by a female filmmaker, in recognition of the 40th anniversary of Title IX. We have four of them premiering at the festival, and we plan to go see Pat XO, directed by Lisa Lax and Nancy Stern Winters, and Let Them Wear Towels, directed by TFF alums Ricki Stern and Annie Sundberg.
Whoopi Goldberg has been a part of the Tribeca family since our very first festival, so it's fitting that we premiere her directorial debut, I Got Somethin' to Tell You, a profile of the late pioneering comic Moms Mabley.
Alberi screening, VW Dome at MoMa PS1, 22-25 Jackson Avenue, Long Island City, open to the public. Screenings of "Nine for IX" and I Got Somethin' to Tell You throughout the festival, tickets at www.tribecafilm.com.
SUNDAY, April 21
We're already exhausted. We're sleeping in today and then spending time with our families. But if you need a pick-me-up, try Blue Bottle Coffee at All Good Things.
Its great to have our Focker family at the festival this year. Jay Roach (Game Change) and Ben Stiller are doing one of our Tribeca Talks: Directors Series panels at BMCC's Tribeca Performing Arts Center. Later in the festival, we will catch the talks with Clint Eastwood and Richard Linklater.
We are taking a detour from films to stop by the Apple store on Prince Street, where all week Apple has been hosting exclusive Meet the Filmmakers sessions, in which the film industry's leading actors, writers, directors and producers discuss their latest projects. At 6 p.m. tonight, Alastair Siddons, Emile Abinal and other special guests will be on site to talk about their film Inside Out: The People's Art Project, which tracks the evolution of the world's largest participatory art project, spearheaded by French artist JR. Check out his work and be part of it!
All Good Things, 102 Franklin Street, (212) 966-3663. Tribeca Talks: Directors Series panel, BMCC's Tribeca Performing Art Center, 199 Chambers Street, (212) 220-1459, 3pm, tickets at www.tribecafilm.com. Meet the Filmmakers session, Apple Store, 103 Prince Street, (212) 226-3126, 6pm, free and open to the public.
MONDAY, April 22
At lunchtime today, we'll be at our Future of Film Live series at 92Y Tribeca, where Joshua Topolsky (editor in chief of The Verge) is talking about nontraditional storytelling with video game creator Dan Connors, Yoni Bloch of Interlude and Nate Mitchell of Oculus Rift. The series, which runs from today through April 25, covers the ever-changing world of film distribution and features key voices from noted industry players. We will definitely be back later in the week when Todd Wagner speaks.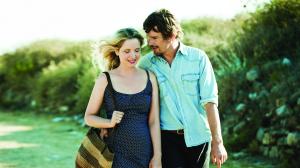 This is one everyone has been asking us for tickets for: Richard Linklater will premiere Before Midnight, the eagerly anticipated third chapter of the star-crossed tale of Jesse (Ethan Hawke) and Celine (Julie Delpy) tonight at BMCC's Tribeca Performing Arts Center.
Future of Film Live panel, 92Y Tribeca, 200 Hudson Street, (212) 601-1000, free and open to the public, register online at www.tribecafilm.com/future-of-film. Before Midnight screening, BMCC's Tribeca Performing Art Center, 199 Chambers Street, (212) 220-1459, premiere tonight at 6pm, screenings continue throughout the festival.
TUESDAY, April 23
The Directors Brunch with Persol is the one point in the festival where all the filmmakers get to meet. You can feel the international breadth and scope of the whole festival in the room. And this year there are 26 women directors, a larger percentage than are represented in the U.S. Congress!
Speaking of filmmakers, during the festival the Tribeca Film Institute works closely with filmmakers in various stages of production to help them with their projects. TFI hosts workshops and networking sessions connecting filmmakers with industry leaders who mentor and provide guidance on everything from fund-raising to production.
Director Paul Verhoeven, the visionary behind the box office blockbusters Basic Instinct, Total Recall and RoboCop, will screen his crowd-sourced film Tricked at his Tribeca Talks: After the Movie event, where he'll discuss how doing something so unconventional has pushed his creativity. We can't wait to hear how he was able to incorporate ideas from hundreds of film enthusiasts across the world.
For dinner tonight: the Tribeca Grill. Can't decide what we are in the mood for—Drew has the best burger with onion rings, crème brulée and sautéed spinach in the city.
Directors Brunch, by invitation only. Tribeca Film Institute, by invitation only. Tricked screening and talk, 6:30pm, tickets at www.tribecafilm.com. Tribeca Grill, 375 Greenwich Street, (212) 941-3900.
WEDNESDAY, April 24
Tonight is the annual Chanel dinner at the Odeon, celebrating the Tribeca Film Festival Artists Awards program. What could be better than celebrating all of our artists while enjoying some of the best french fries? The night is an A-list mix of socialites, movie stars and artists including William Wegman, Joyce Pensato, Dustin Yellin and Gillian Laub, who have donated artwork that will be awarded to the winning filmmakers in each of our competition categories next week.
The Tribeca Film Institute is our year-round programming, and tonight we will honor the projects and filmmakers who have received support from TFI's artist programs, including Tribeca All Access—the Institute's first program for underrepresented filmmakers, which turns 10 this year and has supporting 227 films by over 500 filmmakers who identify as members of a minority group. We are really proud of this program, which has helps diversify what is seen on screens.
There's nothing better than springtime in New York, but Möbius, Eric Rochant's sexy spy thriller, comes close with its Monaco backdrop. The Belgian beauty Cecile de France is in town along with the director to premiere the film. And we are both looking forward to meeting Dr. Mathilde Krim at tonight's screening of The Battle of amFAR, the story of how she and Elizabeth Taylor launched the country's first AIDS research foundation.
Chanel dinner by invitation only. TFI Awards by invitation only. Möbius, screenings throughout the festival. The Battle of amFAR, 5:30pm, tickets at www.tribecafilm.com.