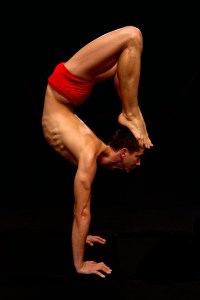 It's 2 o'clock on a Wednesday afternoon, and 12 of New York's top yogis are watching Jared McCann fold his body into a triangle. He is perched in a particularly backbreaking variation of a full locust pose, which is like a chin-stand done with an arched back and bent knees, so that his feet end up resting on top of his head.
"Jared, do you breathe when you do that?" asks a long-limbed blonde named Julia Zirinsky.
"All I feel is my throat ripping apart," Mr. McCann replies as he unfurls, and everyone laughs. "Yoga—rip and crush your throat at the same time!" he adds cheerfully.
We are in Yoga to the People's Chelsea studio, where Mr. McCann, the two-time National Yoga Champion, is teaching a secret advanced class attended mostly by his close friends. The room, heated to 95 degrees, reeks of sweat. All of the students are fellow yoga teachers. Decked out in brightly colored sports bras and/or booty shorts, the dozen yogis contort themselves expertly as Mr. McCann leads them through a safari's worth of poses: peacock, camel, double pigeon. While it borrows elements from many different styles—Yoga to the People no longer offers pure Bikram classes following a copyright lawsuit last year—this particular class is Mr. McCann's creation, his own unique choreography.
Watching the yogis practice, it's not immediately evident that Mr. McCann is the one in charge. They all help one another, adjusting each other's postures and offering tips and positive reinforcement. The room echoes frequently with laughter, and this levity is unusual considering the earnest seriousness with which yoga is usually practiced. "I love a democratic yoga class," Mr. McCann explains.
While his teaching style may appear laissez-faire, the 32-year-old party boy-turned-national champ is a man on a larger mission. Sitting on a bench in the lobby after the class has ended, almost naked save for mini-shorts and two white towels draped over his impeccably sculpted torso, Mr. McCann elaborates on his plans to liberate yoga from the autocrats and the scolds. "I want to take over the whole yoga world," he says.
Handsome, with penetrating green eyes and a boyish grin, Mr. McCann seems totally at home in this state of undress.  This summer, after more than eight years practicing yoga, Mr. McCann will be opening his own yoga studio, to be titled The New York Asana Center. In doing so, he hopes to transmit the focus he brings to yoga competitions into the realm of the classroom. While Mr. McCann advocates for a less cliquish and more democratic yoga environment—one that replaces the dictatorial demands of a healthy lifestyle with the directive of listening to your body—he is also passionate about improving the quality of teaching in a system that he feels has become ragged with incompetence. In this way, Mr. McCann could be the poster child for a more enlightened yoga practice. "I just want the quality to be better," he says.