Something had to give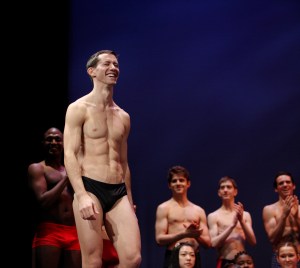 Mr. McCann comes to yoga from an unusual perspective, to say the least. He spent most of his early twenties indulging feverishly in food, booze and drugs with his Wall Street boyfriend. "I was doing cocaine and I was doing heroin," says Mr. McCann, "I had no purpose."
Raised in Texas and Hawaii, one of four sons of wealthy, emotionally aloof parents, he remembers being an unusually disciplined and self-motivated child, who would practice the piano for five hours a day. "I'm obsessive," he says. "I'm an obsessive perfectionist." But after finishing a degree in Japanese at the University of Texas, Mr. McCann decided to follow some friends to New York, where his musical ambitions were quickly subsumed by the pleasures of Manhattan nightlife.
One morning, Mr. McCann remembers waking up and feeling like something had to give. "I needed help," he says. So, like many New Yorkers, he sought spiritual refuge at the sanctuary most geographically proximate to his house: in this case, a hot yoga studio. "I hated it, but I felt better when I was done with that class," he says. "So I just continued to go every day."
Tricia Donegan, the owner of Bikram Yoga Lower East Side who also works as Lady Gaga's private yoga instructor, remembers the day in 2005 when Mr. McCann first came into her studio. "I felt the person he was as soon as he walked in, and that person was someone who was working under his potential," says Ms. Donegan, who would ultimately urge Mr. McCann to compete in his first yoga championship. "I could immediately sense that he was ready to do something he didn't think he could."
As he began to increase his focus on yoga, gradually, Jared began to party less and turn his gaze inward. "A lot of the work for me has been sitting with my loneliness and facing that," he says. He remembers his mid-twenties as a particularly difficult time. "I got really into meditation at this time too because I basically had nothing else to do," he explains. "So I stayed home and I meditated and I played the piano and I wrote music. It was a very lonely three years."
Nowadays, there is hardly a trace of that rootless twenty-something meditating alone in his apartment. In the third-floor elevator lobby of Yoga to the People Chelsea, friends are sprawled out on the floor, listening to Mr. McCann narrate his life story and chiming in with jokes and observations. Among them is Tony Lupinacci, his boyfriend of over five years and a fellow yogi. "We both made that transition together, really, out of the dark into the light," says Mr. McCann.
While his days of clubbing and cocaine are long behind him, he is anything but a drudge, say his admirers in the yoga world. "Does he go out to crazy parties anymore? No," says Julia Zirinsky, another close friend and fellow yoga instructor. "But Jared's a lot of fun when you're hanging out with him. He's kind of like a party himself."
"The reason why he's the best champion is because he's a balanced human being," suggests close friend and colleague Ben Sears, whose company LUXYOGA holds yoga retreats at his villa in the South of France. "He's all-terrain. He's as comfortable in a yoga room as he would be in an opera or the White House."
While Mr. McCann certainly lives what most would consider a supremely healthy lifestyle, he has no interest in preaching the gospel of veganism and Vitamix. In his view, yoga should be more about the poses than about the cult-like spiritual and dietary demands that often seem to go along with it. "I'm very interested in listening to my body," says Mr. McCann, who is a meat eater, chocolate lover and occasional wine drinker. He doesn't believe in one-size-fits-all yoga; he believes that the first commandment should always be to listen to yourself. "I want a place where there's no judgment," he says. "You can eat or do whatever you want to do as long as that thing feels good to you. As long as that thing vibes with your spirit."