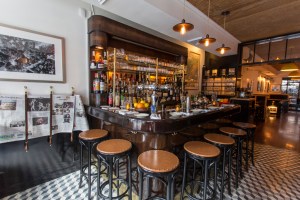 In 1973, what would become known as the Paris Peace Accords was signed after months of deliberation by Henry Kissinger, the shifty dark lord of U.S. foreign policy, and Lê Đuc Tho, who had spent years in a French colonial prison and represented the North Vietnamese government. The agreement ended American involvement in the war but effectively sold out the South Vietnamese to the ravenous North.
That same year, Tien Ho was born in Saigon (now called Ho Chi Minh City). He remembers it as a city "full of half-destroyed buildings, a country in complete chaos." When he was 6, Mr. Ho's father, who had been rescued by a U.S. naval ship during the war and had become an American citizen, moved the family to Sugar Land, Texas, an endlessly repeating subdivision outside Houston full of ticky-tacky houses.
Forty years, almost to the day, after Saigon fell, Mr. Ho, along with Gabriel Stulman, the shifty dark lord of New York restaurants, opened Montmartre, a Chelsea restaurant that assumes the form of a French bistro—but only for the purpose of gutting it, inside out, Frantz Fanon-style.
At its root, Montmartre is a post-colonial French bistro. Mr. Stulman, its owner, is a loud, swarthy Moroccan Jew from Virginia via Wisconsin. (His restaurant group is called Little Wisco.) Mr. Ho, its chef, is introverted and bespectacled. They're like Lenin and Marx, respectively, or Laurel and Hardy, less respectfully. They're an odd pair with little in common aside from the fact that both of their ancestral peoples were once terrorized by the French.
And as an homage to that nation's cuisine, Montmartre is exactly as flawed and uneasy, as rich and vibrant, as complicated and perplexing as a love letter to a colonizing power could be.
Appropriately, Montmartre occupies the space that was formerly Gascogne, a desultory purveyor of French classics for the uninspired. It has since been Stulmanized. Gone are the wicker chairs, the chubby tourists, the Provençal color palate and the silly D'Artagnan mascot.
The walls are now white and heavy with hip contemporary art. Mos Def, for instance, contemplates diners from a large-format black-and-white portrait. The Wu-Tang Clan booms on the stereo. The waitress, businesslike, bare-shouldered and milkily erotic, might have been from Wisconsin. The waiter, tall, black and Francophone, was almost certainly not.
His accent was, however, the most overtly Gallic thing going. Little in Montmartre screams Vive la France! And in this age of restaurant-as-set—which commenced at the bazaar of Balthazar and is felt in the bones of Carbone—I count that as a good thing.
The menu is another matter. Mr. Ho began his career in the kitchen of The Belgian Restaurant, a well regarded, now-closed French joint in Austin, Texas. His life on the line—from Café Gray to Café Boulud to Momofuku Ssäm and finally Má Pêche—has been steeped in French technique. Verily has he mastered the language of the master. That fluency is amply demonstrated in the menu.