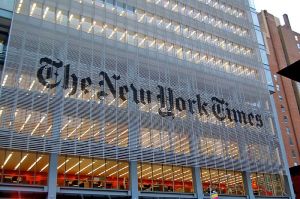 The New York Times has replaced newly named tech editor Glen Kramon with deputy technology editor Suzanne Spector.
Mr. Kramon, who was formerly the assistant managing editor for enterprise, was named as Damon Darlin's replacement on January 16 and was to relocate to San Francisco for the gig. The Times top brass has decided that Mr. Kramon is "needed for an assignment in the newsroom in New York," according to a newsroom memo obtained by Business Insider. 
Ms. Spector came to the Times from a background in law–after ten years as a practicing attornery, she taught legal writing at Hofstra Law School and was an editor at the National Law Journal and the New York Law Journal. She has spent time on other desks and other beats, but has been on the tech desk "running the show for the past two years," as Mr. Darlin is quoted as saying in the memo.
She is also, apparently, magical.
"[Ms. Spector] whoops with excitement and can even become airborne when a Tech story gets fronted. She unapologetically elbows her way to the front of the scrum when we gather to pick stories for the dress page," the memo reads. "When a great idea for a story is floated, she rapid fires the reasons the assignment should go to a Tech reporter. And when news breaks, there is no fiercer competitor."