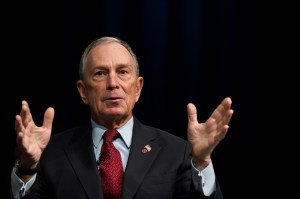 Earlier today, Mayor Michael Bloomberg harshly criticized the media, specifically The New York Times, for giving insufficient coverage to murder victims of color while editorializing against NYPD policies like stop-and-frisk.
"Four days after Alphonza Bryant's murder went unreported by The Times, the paper published another editorial attacking stop-question-and-frisk," Mr. Bloomberg said, referencing a recent slaying in the Bronx and claiming a white victim would have received more attention. "They called it a 'widely loathed' practice. … Let me tell you what I loathe. I loathe that 17-year-old minority children can be senselessly murdered in the Bronx and some of the media doesn't even consider it news."
Well, it seems The Times can push back. And in a sharply-worded statement, New York Times Company communication director Danielle Rhoades Ha told Politicker that Mr. Bloomberg was simply trying to "deflect criticism" from his own administration's controversial policies.
"Mayor Bloomberg is trying to deflect criticism of the City's stop-and-frisk practice by accusing The New York Times of bias," Ms. Rhoades Ha said in a statement. "Among those critical of the practice is The New York Times editorial board, which is separate from the news side of the newspaper. The Times aggressively covers violence in the city's neighborhoods, and to select one murder as evidence to the contrary is disingenuous."
She added, "His claim of racial bias is absurd."