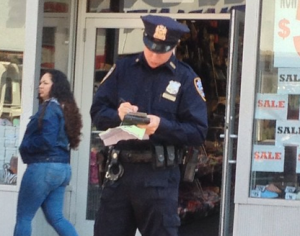 Leave it to the NYPD to make an Android phone useful for more than countless Snapchats. More than 400 smartphones have been distributed to officers since last summer as part of a pilot program to make it easier for them to access police data on-the-go, reports the New York Times.
Despite the fact the phones can't make or receive calls, it can quickly access a trove of helpful information, like arrest records and surveillance video from nearby buildings. The phones are a better alternative for the officers who currently have to use their slow-loading in-car computers or communicate with dispatchers to find similar information.
The phones' instant access to detailed data provides a fuller picture of the suspect at hand thus making it harder for criminals to lie, said Officer Tom Donaldson to the Times:
"I tell them, 'I'm going to see your picture,' " the officer said. "They don't realize we have this technology. They can't tell me a lie because I know everything."
Imagine how cocky he is at trivia night.