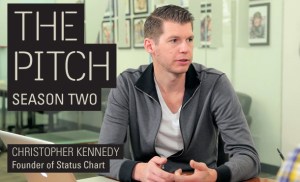 For those who struggle to tell their professional story within the confines of a stodgy one-page resume, Status Chart is here to help. Christopher Kennedy, founder of Status Chart, conceived of the concept in the middle of a job interview. Feeling that his resume didn't accurately portray who he was beyond his 9-5 gig, he wanted to create a well-designed solution that elegantly presented all his professional development and tech community activities, projects and achievements. Afterall, a one-pager doesn't exactly give you enough space to explain your glorious hackathon achievements. The online platform helps users track their milestones and connect with others in their field. Users create profiles that list all completed, pending and upcoming projects.
Will positive feedback from the tech community and the #1 spot on Hacker News convince SoftBank Capital's Nikhil Kalghatgi and Lerer Ventures' Steve Schlafman that the pain point Status Chart is addressing has a large enough base to scale as a business? Watch Kennedy, a Betabeat Spring 2012 Poachable, pitch our investors and see if Status Chart can make the jump from the tech community to the masses.
Click here to watch season 2 of The Pitch.
This post is sponsored by FedEx.