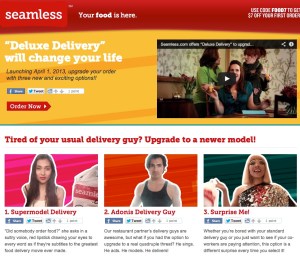 Like we stated earlier today, April Fools' Day is all a matter of perspective. As giant companies with an Internet presence jostle to be "viral" and "social media" (whatever that is), they use this time each year to outdo each other on false information about their products.
And this is fun? Funny? Sometimes. More often, it leaves us confused and excited/really upset for the amount of time it takes to send the link to a friend, whereupon we immediately realize that we have fallen for more April 1st tomfoolery.
This year, there were three "pranks" that really took the cake for their humorous/not humorous lies and misinformation.

1. HBOWatch Announces Peter Dinklage Replacement on Game of Thrones.
Okay, you got us. For a second, we were terrified and outraged. Now we're just mildly annoyed.


Ah, we could never stay mad at you, P-Dink!
2. Seamless Web's Deluxe Delivery Service
Upgrading your meal by having a supermodel, "Adonis," or what looks like a future Bravolebrity was a funny concept for a Fools' joke. The problem is when we click on an offer from Seamless Web, our Pavlovian response is to start counting quarters for a cheaper meal. Finding out the meals are normal price is a total buzz kill.
[youtube http://www.youtube.com/watch?v=lmCW40pnRZs&w=560&h=315]
3. Netflix's Somewhat Plausible, Overly-Specific Categories
The fact is, we have a category on Netflix dubbed "Dark, Independent Road Trip Films." So when we logged in and found this:



It wasn't even that far off from the believable.