By the time Anne Pierre and her sons arrived at 199 Amboy Street, it was after midnight. The heat of the unusually warm April day had all but drained away, but there was a mellowness to the air, a contrast to the sharp, cold spring nights that had come before. From the outside, the red-brick building looked clean and well-maintained, though the darkness made it difficult to tell for sure. In Ms. Pierre's experience, the exteriors of homeless shelters were poor predictors of conditions inside.
Late though it was, the family's arrival at the Brownsville shelter marked the somewhat triumphant culmination of a bureaucratic odyssey that had started two days earlier, when Ms. Pierre had reapplied for shelter at the family intake center in the Bronx. It was only somewhat triumphant in that 199 Amboy was just a 10-day placement, the latest in a string of temporary housing assignments that had become the norm since the family lost its eligibility for shelter in February. But as it turned out, 199 Amboy was the nicest place Ms. Pierre and the two boys stayed since entering the shelter system in June 2012.
As 9-year-old Jordan described their arrival, "When we saw it, we was shocked. It was nice. It was decent."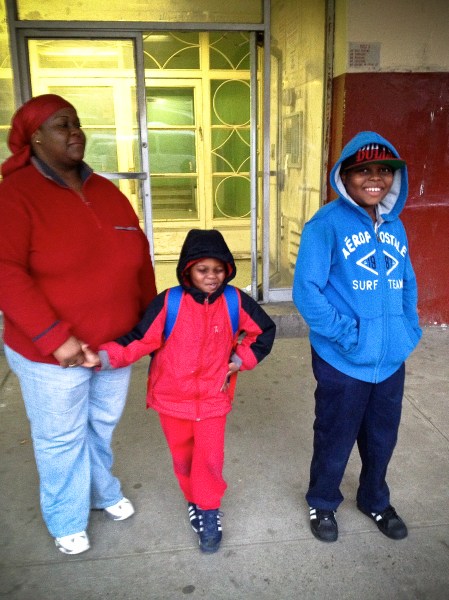 Decent is the kind of good-enough existence that has seemed to elude the family for the last 10 months. But it felt potentially within reach again when they fell asleep that night at a little after 1 a.m., relieved if still wary, with the alarm set for 6 a.m.—the preparations necessary for the school day ahead as uncompromising as the dawn.
Like many other families who have recently swelled the ranks of the city's homeless population, routine has taken on an almost talismanic significance for Ms. Pierre and her boys. They live an approximation of a life that involved, until recently, an apartment of their own—a two-bedroom on Legion Street rented for four years with the help of a Section 8 voucher. Ms. Pierre paid $350 of the $1,100 rent until a recurrent mold problem disqualified the apartment.
Routine means showers in the morning and at night (depending on the hot water situation). It means home-style Haitian cooking for dinner, even if that involves dining out—an expensive proposition, but difficult to avoid when you don't live in any one place long enough to lay in a supply of groceries or retrieve your pots and pans from storage. It means buying cleaning supplies and paper plates and a tablecloth for every new housing placement, no matter how temporary.
It means the boys' hair is neatly trimmed, their Adidas sneakers unscuffed, their backpacks stiff with relative newness. Ms. Pierre, a compactly built woman who wears patterned acrylic nails and keeps her braids under a neat kerchief, is vigilant about appearances. One morning on the B35 bus to 4-year-old Tyler's preschool, she noticed that the knees of his red school sweatsuit were slightly soiled. "He's always on his knees," she said apologetically. "I just washed these." When they arrived, she asked about buying a second school sweatsuit, a purchase that would almost certainly make life harder rather than easier, given that they'd been living out of only a few bags and using a nearby laundromat's wash-and-fold as de facto clothing storage. After 10 months, even their homelessness has taken on aspects of routine. The strange beds, the strange streets, mapping the new bus routes to the boys' schools in the morning—it is about as familiar as an unfamiliar thing can be.
In January of this year, the city's homeless population exceeded 50,000—the highest number since the Great Depression. But while previous homeless crises were largely defined by individuals who fell out of the social fabric long before they went homeless—unemployed, unemployable, or with serious health or substance abuse problems—the current crisis is defined by families, who make up some three-quarters of the city's shelter population.
The number of families in shelters has nearly doubled in the last decade—as of this month, the shelter population included more than 10,000 families and nearly 21,000 children, according to city data. Homeless families have been the fastest-growing segment of the shelter population during Mayor Bloomberg's reign, soaring from 6,921 when he took office in January 2002 to 11,984 in January 2013, according to data provided by Coalition for the Homeless.
Even as the problem has become more widespread, it has become harder to see. It's not so much a figure sleeping in a doorway, but a mother lugging around duffel bags, a child's grades slipping, a family rushing home to make a 10 o'clock shelter curfew.
The current situation may mirror the Great Depression in numbers, but today's deprivation is played out not against a backdrop of 1930s austerity and thrift, but one of profligacy that revels in extravagances of all sorts, from $20 cocktails to $90 million condos. In Bloomberg's New York, the streets may still be potholed, but every new bathroom seems to be clad in Calacatta marble.
Ever since clawing its way back from the brink of economic collapse under Koch, New York City has undergone a dramatic transformation. But to lower-income New Yorkers untouched by the city's new prosperity, it often feels like a cruel taunt that has only made life more difficult.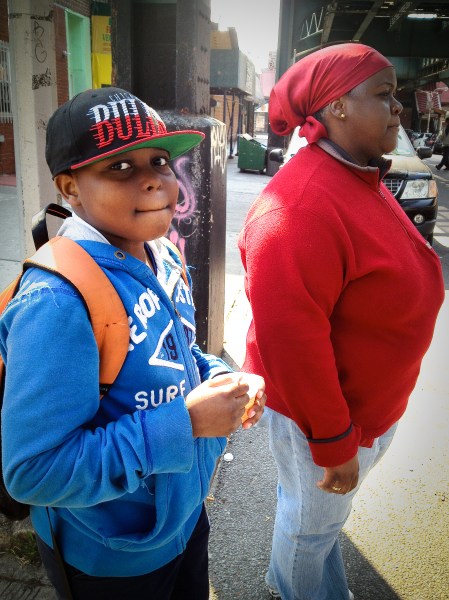 Brooklyn is now the second most expensive place to live in America (after Manhattan), with townhouses that sell for $12 million and jars of pickles that sell for $9, but nearly half of its population can't afford to live there. According to a recent study from the Center for an Urban Future, almost 40 percent of the borough's population works in low-wage jobs, making less than $27,000 a year. At that salary, affordable rent (affordable is defined as costing no more than 30 percent of income) tops out at $675 a month. Minimum-wage workers can't afford to pay more than $375 a month—a virtual impossibility.
A lot of people make do, of course. They triple up with relatives, live four to a room, work two jobs, display the scrappy ingenuity and hardscrabble bravado that we like to think of as quintessentially New York, until something goes wrong.
The huge increase in families seeking shelter is proof of how precarious the lives of New York's working poor are. Family shelters house working parents and recently working ones like Ms. Pierre, a full-time home health aide until June. They are families who have long struggled to make ends meet but for whom homelessness is a new—though increasingly intractable—predicament. Last year, families spent more than a year on average in the shelter system for the first time since 1987. Advocates attribute their inability to leave to the fact that, in contrast to the last three decades, there are no longer subsidies available to help them move out of shelters and into permanent housing.
The current reality stands in sharp contrast to the ambitious plan Mayor Bloomberg presented in 2004 to reduce the shelter population by two-thirds and end chronic homelessness within five years by addressing "homelessness at its core, rather than at the margins." It partly focused on preventative measures like eviction protection, which were widely lauded, but more controversially, it wiped out the paths to permanent housing, replacing them with temporary housing, on the assumption that families just needed a little help getting back on their feet.
"They thought that having paths to permanent housing was drawing people into the shelter system, so their approach to ending homelessness was to eliminate the path to permanent housing," said Councilman Brad Lander, who has been an outspoken critic of Mr. Bloomberg's policies.
Determining how much of the blame should be laid at Mayor Bloomberg's feet is a complicated question. While he and his policies have certainly presided over an unprecedented rise in the homeless population, the recession, the mounting cost of living and the national rise in homelessness are significant confounding variables.
Nonetheless, in the twilight of his last term, Mr. Bloomberg seems to have retreated from the battle, leaving the next mayor to solve a problem that has grown to monstrous proportions. In March, he blamed the surge in homelessness on the loss of state funding for Advantage—a program that issued temporary rental subsidies to thousands of shelter families from 2007 to 2011—but the Department of Homeless Services has not suggested any new programs to deal with the void left in its wake.
Still, the mayor's approach to the spiking shelter population has also struck many as less than compassionate. New York magazine quoted him as saying "you can arrive in your private jet at Kennedy Airport, take a private limousine and go straight to the shelter system and walk in the door and we've got to give you shelter."