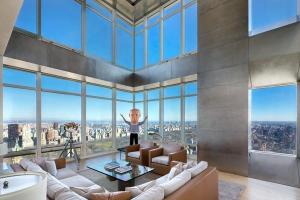 Over the past year, hedge fund honcho Steve Cohen has shelled out $150 million for a Picasso, $60 million for an East Hampton estate and $616 million to get the Securities and Exchange Commission off his back. Now, it looks like he wants to get a little bit back—$115 million, to be exact.
Via our friends at Real Estalker comes word that Mr. Cohen's 9,000-square foot spread at One Beacon Court, the residential portion of the Bloomberg Tower at 151 East 58th Street, has officially hit the market. Mr. Cohen and his brokers—Deborah Grubman and David Dubin at Corcoran—are hoping to knock reigning real champion 15 Central Park West out of the park and set a New York City record.
But with no outdoor space, three blocks between the building and the park and nowhere near the name recognition of 15 Central Park West, can Mr. Cohen's 51st-story duplex do it? (Even if it can't, he only paid $24 million for the apartment back in 2005, so he'll come out ahead either way.)
"The $88 million unit"—Dmitry Rybolovlev's record-setting digs at 15 Central Park West—"overlooked Central Park, and had 135 feet of direct outdoor terrace," Brown Harris Stevens mega-broker Paula Del Nunzio told The Observer. One Beacon Court, on the other hand, "is very convenient to Bloomingdale's and the subway" (how good of Ms. Del Nunzio to think of the help!).
Then again, "there are exceptionally good views" from One Beacon Court, said Ms. Del Nunzio, "and the finishes"—interiors by Charles Gwathmey, natch—"are very good" (which we're sure the contractors will appreciate as they rip them out and leave them for dead at the curb).
In any case, Mr. Cohen isn't hurting for competition—the city is positively booming with would-be record-setters. Martin Zweig wants $125 million for his triplex at the Pierre (a co-op, so at least Mr. Cohen will have the shady Eastern European oligarch market all to himself), Steven Klar wants $100 million for his CitySpire penthouse (which, at 8,000 square feet, is looking a bit shabby in comparison) and Leroy Schecter wants $85 million for his 15 Central Park West spread (down from $95 million).
"Whether it's worth that amount," Ms. Del Nunzio said, "remains to be seen." But "everyone says it can't be done—until it is."