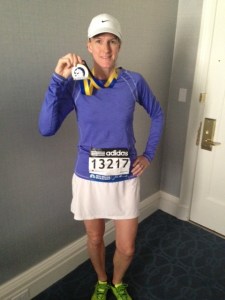 I came to Boston with a friend over the weekend to have some fun in Beantown and run the season starting Marathon on Monday morning. It seemed so innocent, as you can tell by the look on my face in this sweaty photo, taken at the Copley Square Hotel right after we finished.
I finished at 3:32. At 4:09, I heard a thunderous sound and then another.
I'm a Canadian. I live in Hong Kong. So your American ways are at least a little foreign to me. Everyone has by now been inundated with gory images and stories of the disaster. That's what news is, people seem to dig that. I have no near miss, no real personal account of the event to add. In fact, despite being so close both in time and space to the whole dreadful event, I feel a certain disconnect. Boston marathon was for me just a road race, oh it was Boston to be sure–a well-oiled machine, amazing crowds, so many fellow runners–but I ran, I finished and I went back to my hotel where I saw on the news that the finish line had been bombed injuring dozens and killing a few.
An awful turn of events of course and I feel for the victims, and I find it a sad shame that such a joyous event was twisted into a tragedy. But it doesn't much pay to think what my life would look like had I finished 37 minutes slower, so I don't.
The other thing I've been thinking (and I will admit that I'm not proud to be having this thought…) is that I'm already so numb from hearing about this that and the other bombing, shooting, invasion that I can't help rolling my eyes and thinking, "Again?" Why won't this kind of thing stop? Why is there always another tragedy? How did we as a people (and by "we," I mostly mean you Americans) get to a place where bombing a sporting event or shooting masses of school children, etc. is something that happens, ever? A part of the answer is because people somehow acutally like this stuff, there's nothing like mass destruction and suffering to band a population together and feel united and strong and vow to overcome and rise above. It may sound a little out there but this kind of energy breeds more of the same. No, I'm not trying to downplay what is truly a catastrophe and I'm not saying that you should act as if it didn't happen. I am saying mourn, investigate, bring the evildoers to justice but do it quietly and move on, don't celebrate and sensationalize the event. Don't replace the Boston marathon's purpose with that of the perpetrator's.
I don't expect the media markets of the world to defer to one Canadian's opinion. And perhaps it's PTSD. I traveled halfway around the world to be in Boston on Monday. It's hard to accept, seeing the faces of runners and onlookers and staff, all excited to celebrate together, that someone traveled there to undo all that good. But ultimately, I am confident that the spirit of the marathon will triumph over the twisted evil intentions of whoever was behind this.