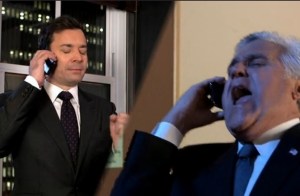 Wednesday's official announcement from NBC that Jimmy Fallon will be replacing Jay Leno on The Tonight Show was the culmination of months worth of speculation, rumors and gossip. When the media learned that Mr. Fallon was not only moving the show back to New York, but would be hosting the program from Johnny Carson's old studio, the comparisons between this latest drama and the bitter NBC late-night feuds in the past–Conan vs. Leno, Leno vs. Letterman–were inevitable, despite the network trying to play off the move as amicable. Hell, trying for the 11:30 (or now, technically, 11:35) slot on NBC is more of a political bloodsport than Game of Thrones, with at least twice as much backstabbing and allegiance shifting. (Though less decapitation … that we know of.)
Here are the five best rumors about the new Tonight Show, along with any responses from NBC or its players.

1. Rumor: NBC was so pissed at Leno for mocking its ratings that it pushed the 22-year veteran out.
Last month, The New York Times ran a piece about the fallout from a joke that Mr. Leno made on Tonight about NBC sliding into fifth place in the ratings. The article cited three sources that claimed that NBC's top entertainment executive, Robert Greenblatt, and Mr. Leno engaged in a flame war after the episode. As Bill Carter wrote:
This moment of conflict between Mr. Leno and NBC's management preceded recent reports — denied categorically by NBC executives — that the network was preparing to make a change, moving out Mr. Leno and bringing in Jimmy Fallon, the star of its 12:35 program "Late Night."
Damage Control: NBC staged a dinner for Mr. Greenblatt and Mr. Leno, though of course that only fueled the fires to speculation that this was a "last meal" kind of scenario.
2. Rumor: Jay Leno and Jimmy Fallon must hate each other.
It's happened with Jay Leno and literally every other contender for Tonight (including Carson, who wasn't a huge fan of his successor), or anyone who shares the time slot on a different station, so why should the brazen Mr. Fallon be any different?
Damage Control: On April 1, the two hosts got together and sang a parody duet of West Side Story's "Tonight."
[hulu id=9rfwssktljzfd7mlecoeog width=512]
Then again, it was April Fool's Day, so who knows how much stock to put in this bonhomie. However, Mr. Fallon does have a history of being, if anything, overly gracious to the cranky Mr. Leno.
3. Rumor: Fallon is already becoming the biggest late-night diva of them all.

Amid all these other swirling rumors was one that only applied to Mr. Fallon: that he had fired his longtime manager Eric Kranzler right before signing his Tonight deal.
Damage Control: Well, besides his former manager, everyone else seems to love Mr. Fallon.
4. Rumor: Jimmy Fallon rode in a sidecar of Jay Leno's motorcycle.
Thanks for this, New York Post:


Damage Control: The image turned out to be a fake, though without any sort of disclosure, you could be excused for thinking it was real.
5. That Seth Meyers will host in Fallon's former time-slot.

Every time a host moves up, it's an opportunity for some fresh blood to move into the recently vacated space. Right now, the biggest name being tossed around is Saturday Night Live's Seth Meyers, which would be great … Weekend Update every weeknight!
Damage Control: None, quite yet.