Actor and actress couple David Duchovny and Téa Leoni haven't offloaded their old New York City triplex yet (though they've reportedly been broken up for almost two years), but Ms. Leoni has already moved on: the Deep Impact star just picked up a three-bedroom combo spread at 190 Riverside Drive.

The eighth-floor corner unit is decked out in a thoroughly traditional (dare we say geriatric?) style, with "exquisite detailed moldings, stained glass doors, original fireplace mantels, bay windows and coffered ceilings"—fancifully-coffered ceilings beyond the standard square patterns, by the looks of it—according the listing description.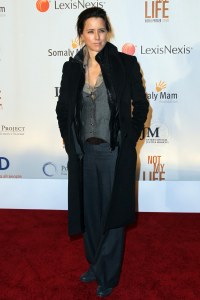 Corcoran brokers Deanna Kory and Carlin Wright had the listing and, we're guessing, their fill of the hard candies that the sellers almost certainly kept in a little dish on the coffee table.
The unit only has two true bedrooms—that is, rooms with en-suite bathrooms and walk-in closets—but if Ms. Leoni's kids or guests are willing to slum it and walk through the hallway to reach the bathroom, the home can accommodate up to four  bedrooms.
Though the décor in Ms. Leoni's new apartment is sure to be cleared out before the actress takes up residence, we can see why she was drawn to the apartment. It's very much in line with Ms. Leoni and Mr. Duchovny's Upper East Side co-op maisonette, replete with overstuffed leather chairs, wooden cabinetry and kitchen chairs that look straight out of a 1950s diner. They are asking $9.25 million for their old first-floor triplex—a true maisonette, in that it has a separate street entrance.
For her new Upper West Side digs, though, Ms. Leoni paid $5.12 million, a bit below the $5.25 million asking price, to sellers Nathan Berry and Ceara Donnelley. Ms. Leoni may be a movie star, after all, but much like a mere mortal, her post-breakup pad is more modest than the married spread. Stars, they're just like us!